John Brown has been a wine and food columnist in West Virginia since the 1980's. His regular columns appear in the Charleston (WV) Gazette-Mail under the title Vines & Vittles and in The State Journal - a statewide business weekly
Wines From 'Down Under'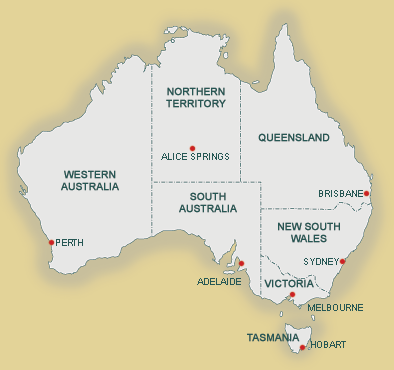 A few decades
ago,
in another life, I spent a week "Down Under" courtesy of the US Army. What I remember of that R&R week in Sydney is a bit fuzzy, but one aspect of Australian life was crystal clear: those folks liked their adult beverages! While my beverage of choice that week was beer - (which came in 10W-40-like cans or large mugs called "Schooners"), years later I came to appreciate another consumable liquid ably produced by the Aussies – wine.
Over the last 20 years
, I have seen the Australian wine market grow from a few recognizable quality brands like Penfolds, to hundreds of excellent wineries from several growing regions in that vast country. Of all the wine regions in the country, the Barossa Valley in southeastern Australia is the most prestigious and -- meteorologically speaking -- is very much like northern California with vintages that are consistently very good.
While Australia is known mainly
for its shiraz (which the rest of the world calls
syrah
) along with cabernet sauvignon, the Aussie wine makers also produce excellent chardonnay, riesling, semillon and grenache. I particularly enjoy the old vine Australian grenache. While Australian grenache is sometimes made as a single varietal, it is most often blended with shiraz and sometimes mourvedre, a deeply purple grape used to provide color and weight to the finished wine.
I've often wondered
if the cultural diversity of Australia has played a role in the ubiquitous practice by wine makers from "Down Under" to blend different varieties of grapes to produce their wine. Whatever the reason, I'm glad they continue to blend because the resulting wines are not only very good, they provide complex tasting experiences. Here are some Australian wines you might try along with food suggestions to pair with them.
One of my favorite
wineries is d'Arenberg whose wines go by some very strange and humorous names such as The Lucky Lizard Chardonnay, Dead Arm Shiraz (
photo at right - click to enlarge
) and The Hermit Crab Viognier, just to name a few. Try the old vine grenache from d'Arenberg called The Custodian ($15). This wine is from ancient vines – some more than 100 years old – and yet it is soft, approachable and full of spicy blueberry flavors. It would be a wonderful accompaniment to grilled baby back ribs.
D'Arenberg also makes a delicious blended wine comprised of shiraz with just a small amount of viognier (that's right, viognier – a white wine) called The Laughing Magpie ($25). This wine has excellent aging potential and is full of dark plum and blackberry flavors that emerge after about one hour in a carafe. Try it with marinated and grilled top sirloin.
An absolutely
delicious white
is the aforementioned Hermit Crab Viognier ($14), which is a Rhone-like blend of viognier and marsanne. This wine is very will balanced and chock full of ripe pear flavors with a pronounced minerality. Its great as a porch-sipper or with lighter fish dishes such as flounder and sole plainly cooked and sauced with lemon and butter.
Another of my
favorite
shiraz' is one produced by Torbreck called The Woodcutter's Red ($22) This is a spicy, elegant wine with hints of blackberries that is pulled together by excellent balancing acidity. Grilled salmon with a southwest seasoning would be a good choice with the Woodcutter's.
Hewitson's Miss Harry
($24) is another great blend of grenache, mourvedre and shiraz that is a stunning wine full of complex dark fruit flavors. It is a full-bodied, round and rich wine that will definitely benefit from two or three years in the bottle, and would be a superb accompaniment to grilled rack of lamb that has been basted with garlic, rosemary olive oil and lemon.
Australia also does a wonderful job with non-traditional white wines like semillon. Semillon originated in the Graves region of Bordeaux and is blended there with sauvignon blanc to produce an austere and dry wine that is a great match with simply prepared seafood dishes.
In Australia, semillon
(which, often as not, is blended with chardonnay or sauvignon blanc) is made in a much richer style, yet it exhibits a mineral quality that allows it to go quite well with oysters on the half shell as well as pasta dishes with a pesto or asparagus sauce. Try the Semillon from Simon Hackett, Rosemount and Peter Lehmann all of which retail for under $20 a bottle.
Riesling is also a good choice from Down Under and the following wines are in the $10 to $20 range: Pikes Clare Valley Riesling, Wolf Blass Adelaide Gold and Grant Burge. Slightly sweet, these are great aperitif wines or good matches to lighter foods like seafood salads or brunch grub such as omelets.