John Brown has been a wine and food columnist in West Virginia since the 1980's. His regular columns appear in the Charleston (WV) Gazette-Mail under the title Vines & Vittles and in The State Journal - a statewide business weekly
Wine in vending machines?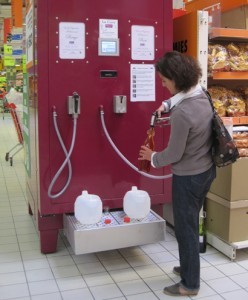 The next time you feel like complaining about the weird laws surrounding alcohol in the Mountain State, be thankful you don't live in that land of plenty just to the north of us.
To say that wine, beer and liquor laws in Pennsylvania are complicated and restrictive would be an epic understatement.
In fact, getting a bottle of hooch was probably easier and less complicated during Prohibition than it is in the Keystone state today.
But now bureaucrats
in Harrisburg have devised a new method of getting wine (which, like liquor, can only be purchased in state stores) to thirsty Pitt and Penn State fans. They're making it available in vending machines in selected supermarkets. Sounds great, right? Here's how it works.
After selecting a wine from among the more than 50 bottles available in the machine, customers must insert a driver's license into the kiosk proving they are at least 21 years old. Next, a camera in the machine verifies their identity via video link with a state liquor control board official. If that's not complicated enough, customers then must blow into a breathalyzer to make sure their alcohol level is not more than 0.02, or just one quarter of the legal limit for driving.
Why not require a birth certificate
, immunization card or, at least, a note from your dentist attesting to fact you don't have trench mouth? Our brethren from Pennsylvania have taken a pretty neat customer convenience idea and complicated it to the point of bureaucratic absurdity.
The French, however, have added a true wine customer convenience device that I would like to see here in the good old U. S. of A. sometime soon. They actually are installing 500 and 1000 liter wine self-serve tanks in supermarkets around France. The tanks look like gasoline pumps where consumers fill their own reusable bottles and jugs (or they buy containers at the store), and then use the self-serve hoses to fill them up.
It's pretty simple too.
You just select your wine type (red, white or rose), pump it into the container and take the printed receipt to the checkout counter where you pay. Now, obviously these pumps are not going to be dispensing Chateau Lafite, but for everyday sipping, in a country that takes its wine drinking seriously, this is about as good and convenient as it gets.
Until we get vending machines or wine dispensing pumps, we'll have to settle for the old tried and true method of purchasing our wines from shops and grocery stores. Here are some bottles you may wish to acquire in this traditional method.
2007 Masciarelli Montepulciano
($10.99) Soft and supple, this red will marry nicely with pizza topped with fresh tomatoes, olive oil and fresh mozzarella.
2009 Paitin Langhe Arneis
($18.99) One of the most famous white wines of Italy's Piedmont region, arneis is delicate, somewhat spritzy and fruit forward. Try it with mussels poached in some of the arneis along with a little chopped garlic.
2007 Cantele Primitivo
($15.99) Full and rich, this zinfandel-like red will match up nicely with lasagna in a spicy red sauce.
2008 Alois Lageder Pinot Grigio
($19.99). This pinot grigio is a fuller-bodied version of this popular white from northern Italy. With flowery and somewhat spicy notes, try it with penne pasta in a basil pesto sauce.