John Brown has been a wine and food columnist in West Virginia since the 1980's. His regular columns appear in the Charleston (WV) Gazette-Mail under the title Vines & Vittles and in The State Journal - a statewide business weekly
Smoky linguine and a big red: an Autumn repast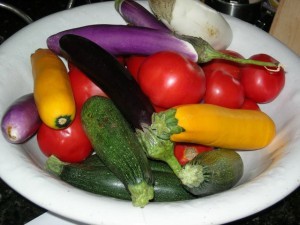 I really do enjoy the change of seasons, particularly the transition from summer to fall. I am aware that autumn is more than five weeks old, but my internal thermostat is just now registering the change. I also know it's fall because my body is getting urgent messages from my brain to start ingesting fuller flavored wine and food.
Hey, you gotta listen
to your body, right?
Well, nothing says full-flavor to me like pasta and red wine, so after a little rumination, I came up with a lovely culinary inspiration: why not combine my love of grilled vegetables with pasta and accompany the dish with a purple whopper?
You might remember a piece I wrote last summer extolling the virtues of grilled vegetables. Well, this recipe uses many of those same veggies, but in a whole new way. Listen up.
The first order of business was to visit the
Purple Onion
produce emporium at our own Capitol Market where I was able to procure a diverse selection of vegetable goodies that would be the centerpiece of this concoction. A little further down you'll find my wine selections for the meal, but first, here's the recipe for what I call "
Smoky Linguine
."
Shopping List
1 red and one yellow bell pepper, seeded and cut lengthwise into thirds
2 peeled zucchinis cut lengthwise into half-inch wide, two-inch long rectangles
1 large onion, peeled and cut into quarter inch circles
2 poblano peppers, cut into long strips one inch wide
2 Portobello mushrooms cut into one-inch wide strips
4 Roma tomatoes cut in half length-wise
6 cloves of garlic peeled and left whole
3 ounces of extra virgin olive oil
1 tablespoon of balsamic vinegar
2 tablespoons each of chopped fresh basil and Italian parsley
1 teaspoon each of kosher salt, black pepper
1 teaspoon red pepper flakes (optional)
4 ounces of grated parmigiano reggiano
1 pound of linguine (you can use whole wheat or spinach linguine if you wish)
Prepare
a marinade for the vegetables by combining the olive oil and balsamic vinegar
Place
veggies in a large bowl (or gallon plastic bag), add the salt and pepper and mix, allowing the vegetables to marinate for one hour
Fire
up a charcoal or gas grill to medium heat and place the vegetables on the grill surface and turn them regularly to avoid burning
When
veggies are charred (not burnt), allow them to cool to room temperature
and place half the veggies in a food processor and process into a paste
Cook
linguine in boiling water until al dente, drain pasta (reserve one-half cup pasta water) and place pasta along with all veggies into a large sauté pan and blend the ingredients
Add
the pasta water to the pan and heat the mixture
Remove
and plate the Smoky Linguine, adding the red pepper flakes, parsely and basil along with the parmigiano reggiano to each plate
So, what about wine matches for this dish? Well, the key here is to use a wine that has some element or component flavor that pairs well with the smokiness and spiciness of the grilled vegetables. You might consider wines such as a zinfandel or something from Languedoc-Roussillon in southern France.
Zinfandel
usually shows spiciness and dark fruit flavors while the Languedoc has a smoky, black cherry character. Never one to take a chance, I chose to open one of each of the following wines and both, for different reasons, paired well with the pasta dish.
2008 Chateau Coupe Roses
(La Bastide, $15) – From the Minervois region in Languedoc Roussillon of Southern France, this blend of old vine carignan and grenache has ripe plumb flavors with nuances of smoke. Excellent accompaniment to the grub.
2007 Marietta Old Vines Zinfandel
($20) – A great mouthful of blackberry spiciness, this purple zin is a killer match to the dish.