John Brown has been a wine and food columnist in West Virginia since the 1980's. His regular columns appear in the Charleston (WV) Gazette-Mail under the title Vines & Vittles and in The State Journal - a statewide business weekly
Pairing Scotch and food - Is it possible?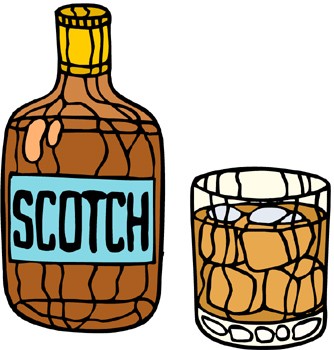 My good friend and fellow Gazz blogger Rich Ireland is always touting the compatibility of beer with food, and I have to agree there are some pretty interesting brew and grub combos. But for those of you out there who occasionally sip beverages other than the fruit of the vine, you might be interested in a rather unique sipping and supping event featuring some pretty unusual food and beverage pairings. How about full course gourmet meal accompanied by……Scotch? Well, listen up.
Bridge Road Bistro in Charleston and Boathouse Bistro in Morgantown will hold Scotch and related spirits tasting dinners in October. A Scotch master will join guests at the Charleston restaurant Thursday, Oct. 2, and at the Morgantown restaurant Thursday, Oct. 16, as they enjoy a spirited dinner with an appetizer-to-dessert menu that features the Scotch they'll be drinking. In Charleston, the Scotch tasting will feature The MacCallan Scotch and in Morgantown, the featured Scotch will be The Balvenie.
Both dinners begin at 6 p.m. and cost $100 per person, with a portion of that being a donation to the Appalachian Education Initiative So, if you're a Scotch lover, call 304-225-0101 and reserve your place