John Brown has been a wine and food columnist in West Virginia since the 1980's. His regular columns appear in the Charleston (WV) Gazette-Mail under the title Vines & Vittles and in The State Journal - a statewide business weekly
My Purple Passion: Making Old Vine Zin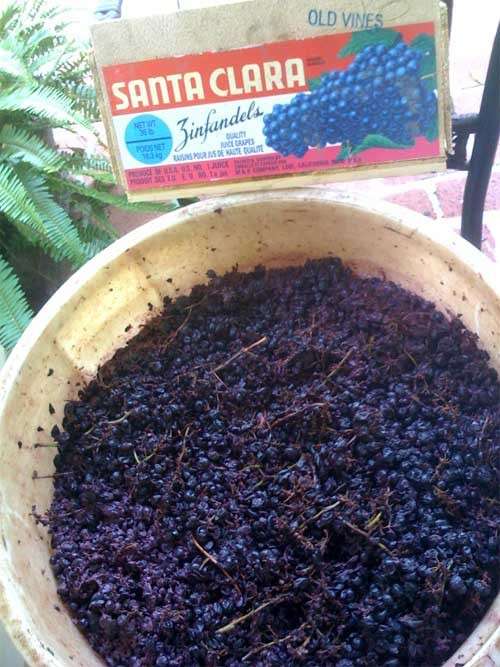 For the first time in more than 30 years of wine making, WineBoy has been able to acquire old vine zinfandel for his home winemaking.
I've been a busy WineBoy lately! The annual harvest ritual at the Brown household is officially underway. This past Saturday, I picked up 22 lugs (36-pound wooden boxes) of old vine zinfandel grapes from the St. Albans Kroger store where I had ordered them a few weeks ago. These purple lovelies, transported cross country in a refrigerated vehicle, hail from the Lodi (California) American Viticultural Area (AVA) just south of Sacramento.
I'm pretty excited because this is the first time, in more than 30 years of wine making, that I have been able to acquire old vine zinfandel. The good folks at Kroger have been sourcing grapes for local wine-obsessed amateurs like me for decades. Over that period of time, I have used a number of different varietals to make wine, including cabernet sauvignon and cabernet franc, merlot, syrah, petit sirah, grenache, sangiovese and regular ( young vine) zinfandel. Until this year, however, I was never able to acquire old vine zinfandel.
You're probably wondering what's so special about old vine zin? Well, first of all let's define what "old vine" means. One of the most respected zinfandel producers in California is Joel Peterson, founder of Ravenswood Winery in 1976, who, along with Paul Draper at Ridge, is considered an authority on the grape.
In an article appearing in AppellationAmerica.com last year, here's what Peterson had to say about classifying zinfandel:
"I divide it into four categories. Zero to 10 years old are 'Young Vines.' Ten to 50 years old are what I call 'Tour Vines.' They produce good wine, but it takes more work to achieve deep balance. Fifty to 80 years (or vines which produce less than three tons per acre) are "Old Vines." They are balanced, and doing what they are supposed to do. Eighty years and older are "Ancient Vines."
Old vine zinfandel is in very high demand because there simply is not enough of it available - particularly for jack-leg home wine makers like yours truly. That's why I jumped at the chance to get it. As you can imagine, with vineyard space being dedicated to the more mainstream varietals such as chardonnay, cabernet, sauvignon blanc and pinot noir, there aren't many producers who have the patience (or balance sheet) to keep zinfandel vines in the ground for 50 or more years.
I'll be the first to admit that old vine zin is not every one's cup of tea... er, wine. The stuff can be a Port-like purple monster with juicy blackberry or even chocolate flavors, and the alcohol levels usually exceed 15 percent. However, if you like your wine full-bodied and bursting with dark fruit flavors, you might give old vine zin a try.
One of the most complementary food and wine matches I've ever locked these purple lips over is old vine zinfandel accompanied by a pork sirloin roast which had been rubbed with garlic, olive oil and black pepper and stuffed with onions and carrots. The bigger old vine zins are also great for after dinner sipping with nuts and/or blue cheese.
Want to give old vine zinfandel a try? Here are some of my favorites: Ridge Geyserville (photo at right); Montevina Terra d'Oro Deaver Vineyards; Ridge Pagani Ranch; Rosenblum Continente Vineyard; Gnarly Head; and Renwood Old Vines.
As I write this tome, I'm staring at fingers made purple by the frothing, fermenting juice of old vine zinfandel. Damn, this is great!
<!--[if !supportEmptyParas]--> <!--[endif]-->