John Brown has been a wine and food columnist in West Virginia since the 1980's. His regular columns appear in the Charleston (WV) Gazette-Mail under the title Vines & Vittles and in The State Journal - a statewide business weekly
More Oregon Pinot Noir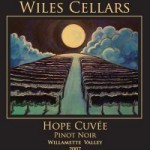 So which pinot noirs at the International Pinot Noir Celebration (IPNC) stood out to yours truly at that lovely weekend event in the Willamette Valley? So many were special, but several exceeded my expectations.
As I mentioned last time, there were two evening tastings at IPNC where approximately 100 wineries were featured. The task of tasting the wines and then evaluating each was, to say the least, daunting, but your intrepid boy of wine was up to the task. Armed with a pen, notepad and palate, I plodded through the exercise and came away with a purple tongue and some unexpected insights.
First eye-opener was the quality of the 2007 Oregon pinot noir vintage. Largely (and prematurely) panned, the 2007 wines are certainly leaner than many of the recent Oregon pinot noir vintages, but they uniformly showed a silkiness and suppleness that is very appealing. Given a few years in bottle, these wines will continue to develop complexity and should be delightful for years to come.
The 2008 vintage in Oregon
is already being hailed as one of the best ever. Deep, rich and earthy, these are more hedonistic wines than their 2007 older brothers. The tannins are harder and therefore the wines will require a few years in bottle to reach drinkability. But make no mistake, these will be excellent wines.
One of the most important aspects in producing quality finished wines is the art of blending. As a home wine maker, I can attest to the fact that blending different wines (made from different grapes) can produce a more refined and complex finished product. However, I have never had the opportunity to blend wines made from the same grape and vintage date – until a seminar at IPNC.
This particular seminar
was held at Selena Winery – a brand new facility within the Yamhill Carelton AVA. The focus of the seminar was on the importance of blending and it was hands (or should I say lips) on. Our group was divided into tables of eight, each of which was presided over by an Oregon wine maker. The wine maker was there to answer technical questions, but was not involved in choosing our blend.
Our job was to create a final blend out of wine made from three different 2008 Selena pinot noir vineyards. Each of the wines we tasted had different characteristics, and it was our job to agree upon the proper proportion of each to achieve the blend which would then be evaluated by a panel of professionals.
Charleston native Kevin Wiles Oregon pinot noir
Guess what? Our table's blend was judged best! I'm sure it was my years of home wine making experience that put us over the top (actually, the blend I suggested was picked by another table and came in third place). Anyway, this was not only great fun, it was also an insightful exercise that gave us an appreciation for how difficult it is to make good wine even better.
There is no doubt that pinot noir is among the most food friendly wines on the planet, and a key component in producing excellent wine requires not only geography, science and wine making skills, but also people with experienced palates to create the final blends.
So which Oregon pinot noirs
tickled my palate most? Here is listing of my favorite wines, including one made by Charleston native Kevin Wiles whose 2008 Wiles Cellars Hope Cuvee is a delicious, round and rich wine I had the pleasure sipping with lunch in McMinnville one afternoon. You may contact Kevin and order the wine direct from him by calling 843-338-0583 or emailing him at
This email address is being protected from spambots. You need JavaScript enabled to view it.
.
Other favorite wines: Domaine Serene, Bergstrom, Brooks, Chehalem, Elk Cove, Lange (they also make a killer pinot gris), Lemelson, Redhawke, Scot Paul, St. Innocent, Domaine Drouhin and Raptor Ridge.
If you are a pinot noir lover too, you might want to consider a trip out to the Willamette Valley to sip some of the best wines on this planet. Better yet, sign up for next year's IPNC event to be held July 28-31. Check it out online at:
This email address is being protected from spambots. You need JavaScript enabled to view it.
or by calling 800-775-4762.