John Brown has been a wine and food columnist in West Virginia since the 1980's. His regular columns appear in the Charleston (WV) Gazette-Mail under the title Vines & Vittles and in The State Journal - a statewide business weekly
Evaluating Wine: Your Mood Does Matter!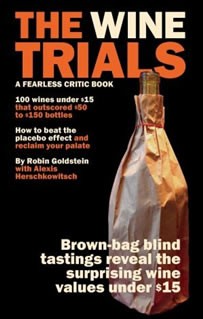 One of my favorite blogger/columnists is Eric Asimov of the New York Times. He has a weekly blog called The Pour, where he explores broad issues relating to the fruit of the vine. One of his recent blogs dealt with the premise of a new book, "The Wine Trials" by Robin Goldstein.
The introductory paragraph to Asimov's April 11 blog reads: "In yet another anti-intellectual effort to take fancy-schmancy wine down a peg or two, a new book purports to demonstrate that price bears little relation to quality and that the experts don't know what they are talking about. The evidence? Blind taste tests of 540 wines by 500 volunteer tasters."
That blog and the comments it elicited got me thinking about how we all make choices regarding the wines we select for every day drinking and for special occasions. Certainly, we can all agree that quality wines that offer great value are worth seeking out. So how do we determine what is not only an acceptable wine, but one that is exceptional? Well, let me take a crack at it.
Some of us depend upon rating systems (such as Robert Parker's 100 point scale). Others depend on buying wine from exceptional vintages and from specific wine regions like Bordeaux. Still others focus on the wineries that consistently produce exceptional wine or (heaven forbid!) on the supposed relationship between ascending price (of wine) and quality.
How do you judge the quality of a wine? I've advised people to taste them blind. In other words, cover the label (by placing the bottles in plain brown bags) to take away any possible price or winery bias so that you can truly judge the product on its quality. Blind tastings are something I do regularly so I can objectively evaluate the aroma, taste and visual qualitative elements that are the basis for whether I recommend a wine or not.
While all these evaluation methods have merit (except for basing your selection solely on price), I think there is one that we oftentimes overlook that is also important to consider. Here is an example of what I mean.
So there we were, sitting in an outdoor trattoria perched high above Lake Como in Northern Italy. It was a beautiful summer evening, the food was simple but delicious. And the wine? The wine was produced by the family that owned the restaurant and was among the best that had ever passed these lips.
That entire multi-course meal with wine set me back all of $35, but this was one of the best wine and food experiences of my life. Why, you ask? Well actually the reason has to do with one of the most important elements of food and wine appreciation, but also one of the most understated: context.
Do not underestimate how the setting or context of your tasting affects your perception of the quality of the wine. I've had experiences where the wine I was sipping was rated exceptionally by just about every well-respected critic, and yet I could not find in it any redeeming qualities. Why? Well sometimes it has to do with whom I am forced to consume the stuff, the location of the tasting or even my mood.
Business meetings, where tensions are high and where the food and wine are secondary to accomplishing some corporate objective, are for me among the most difficult times to enjoy and objectively evaluate wine. At such dinners, I am tempted to order a wine that I actually dislike so that it will not be a distraction to the sometimes distasteful subjects under discussion – but, of course, I don't.
So the next time you 're using your critical wine appreciation skills to determine the quality of a specific bottle, please add the element of context to the equation.
Oh, of course
I could not resist adding my comment to The Pour on the subject of the price-versus-quality argument. Here's what I added to that discussion:
'The journey toward wine appreciation begins with one tentative, small step and, hopefully, becomes a passionate lifelong exploration. That a book such as 'The Wine Trials' has an audience is testament to the growing interest in wine in this country, and that is a good thing! While we more experienced wine lovers can engage in sometimes pedantic discussions about the validity or premise of such a book, we should probably also revel in the fact that the author found 500 people interested enough to participate in the exercise. I'm constantly searching for wines that offer both quality and value, and when I find such gems, it gives me great pleasure to share that knowledge with my readers. I'll probably buy the book and do my own evaluation on a few of the wines suggested. Then, based upon my very unscientific conclusions, I'll decide whether to recommend it to those few souls who think my opinion counts.'