John Brown has been a wine and food columnist in West Virginia since the 1980's. His regular columns appear in the Charleston (WV) Gazette-Mail under the title Vines & Vittles and in The State Journal - a statewide business weekly
Chardonnay: Too much of a good thing?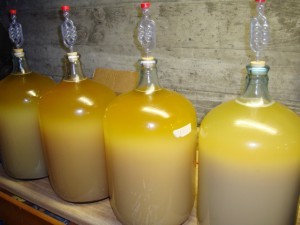 Is it possible to love something, but be tired of that very same thing?
I emphasize the word "THING" to make sure the animate objects of my affection do not get the wrong idea. As you might suspect, I speak of wine. And not just any wine, but one of the greatest of all– chardonnay.
Too much of a good thing?
Yes, that's part of the problem because there's no doubt the stuff is all around us. It seems someone is always handing me a glass of chardonnay at every event I attend or every bar I frequent. But that's not the problem either.
What it gets down to is searching for quality and avoiding the boring plonk that so many wine makers are producing from this world-class grape.
With any wine, particularly one as ubiquitously produced around the world as chardonnay, the soil, climate and overall geography of the vineyard site, along with the wine making style of the vintner, become critical. These elements all define the style of the wine.
While it may be
an oversimplification, I classify chardonnay as "new" or "old" world. New world chardonnays are those from North and South America, Australia and South Africa, and they are decidedly different from the old world wines produced with great success in the White Burgundy region of France.
For example, many new world chardonnays are rich, buttery and oaky with the intensity of a red wine. Many of these wines also have tropical fruit or butterscotch flavors and some have a good dollop of residual sugar.
In Burgundy, there are three basic regions where chardonnay is produced. In Chablis, the wine can show stony minerality and sometimes tart green apple flavors. In the Macon region, the best wines (such as Pouilly-Fuisse) can be aromatic and slightly buttery.
In northern Burgundy
, the greatest chardonnays have creamy textures and ripe apple flavors with a kiss of oak. These wines, such as Corton-Charlemagne and Puligny Montrachet, can cost anywhere from $150 to more than $500 a bottle.
My own preference in chardonnay runs to the northern Burgundian variety, but my pocketbook leads me to California. In particular, I prefer chardonnay grown in the cooler areas such as Carneros, the Russian River Valley of Sonoma and the Santa Y'nez Valley near Santa Barbara where sunny days are followed by chilly nights to produce wines with excellent balance.
My favorite style
of chardonnay combines ripe fruit richness, good acid balance and just a touch of oak. Wineries such as Chateau Montelena, Talley Vineyards, MacRostie, Acacia, Wente Riva Ranch, Talbott and Cakebread are among my favorites and range in price from under $20 to about $40 a bottle.
I actually took matters in my own hands (literally) a few years ago by making my own chardonnay from grapes grown in the Carneros region of southern Sonoma County. As a matter of fact, I've got 20 gallons of 2010 chardonnay fermenting in my cellar right now. I just bottled the 2009 chardonnay and I am sipping a glass as I finish this column.
I am not bored with this wine!