John Brown has been a wine and food columnist in West Virginia since the 1980's. His regular columns appear in the Charleston (WV) Gazette-Mail under the title Vines & Vittles and in The State Journal - a statewide business weekly
Cafe Cimino does it again !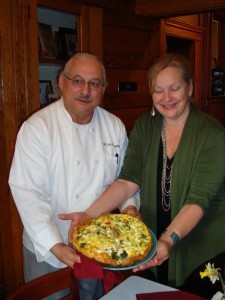 Adding my voice to the overwhelming chorus of satisfied visitors to Café Cimino might seem a bit trite, but a recent meal at this venerable West Virginia Bed and Breakfast is among the best I have ever experienced and I want to share it with you.
I am no stranger
to over-the-top, multi-course, belly-expanding meals accompanied by flagons of wine where mile walks between courses are necessary for diners to safely consume the prodigious quantities of food and drink presented.
So when Café Cimino proprietors Tim and Melody Urbanic asked me to discuss the attributes of the wines selected for a nine-course meal they were planning, I immediately flashed back to several very unpleasant experiences I have had trying to eat and drink everything put in front of me at such bacchanalian extravaganzas over the years.
These days, I am trying to transition from gourmand to gourmet (even though I know I'm kidding myself) so the thought of testing my will power to exercise restraint when offered a multi-course Italian food and wine feast was- at the very least -daunting. But hey, sometimes you just have to suck it up and do what you do best.
I have had the pleasure of dining at Café Cimino on several occasions so I knew going in that Chef Tim and sous chef (and son ) Eli are masters at extracting maximum flavor from their culinary creations with just the right size portions. Still, this was to be a marathon meal with accompanying wines from Barolo in the region of Piedmont of northwest Italy.
The Wines
Nestled in the northwest corner of Italy in the shadow of the Alps, Piedmont is home to perhaps the most revered of all Italian wines – Barolo.  The grape from which Barolo (a town and region) is made is nebbiolo. For a wine to be labeled Barolo, it must be made in the geographical confines of the government-designated appellation. In addition, Barolo must be aged for two years in oak barrels and one year in the bottle before it can be released for sale. Barolo can range in price from about $40 to several hundred dollars a bottle, and can continue to improve in the bottle for decades.
For our dinner, we were treated to a six-bottle vertical tasting (1993-1998) of wines from the Buon Padre Vineyard of Giovanni Viberti. Established in the 1920's, the Barolo of Giovanni Viberti is produced in a very traditional manner with a focus on the vineyard site and farming the grapes to achieve the Viberti style. The wines were provided by one of Tim and Melody's friends who asked them to put a special Piedmont-inspired dinner together that would accompany the Viberti Barolo.
Five lucky couples
began the culinary odyssey at 3 p.m. on a Sunday afternoon with an aperitif of Carneros chardonnay to warm up our palates. I had arrived a couple hours before and decanted the six Buon Padre Barolos into crystal decanters. I've discovered over the years that Barolo, particularly wines less than 20 years old, truly benefit from the aeration that decanting provides, allowing the wines to open up and demonstrate their complex layers of aroma and flavor. In addition to the Barolo vertical, some diners contributed a 2009 nebbiolo, a 1978 Barbaresco (both wines from Piedmont) and a 2005 Barolo to the meal.
Then the feast began…. and continued for five glorious hours. We enjoyed our final (cheese course) on the lovely porch of Café Cimino. For those of you who have never experienced a multi-course meal with accompanying wines, I'm sure you're wondering how we all felt at the conclusion of this epic journey. Actually, quite well thank you. And anyway, we all spent the night in the delightfully comfortable digs of Cafe Cimino.
The Menu
1st Course
Bagna Cauda~ Warm Herbed Olive Oil & Garlic Dip With Grissini~ Breadsticks
Tocco Prosecco
2nd Course
Cream of Asparagus Soup
2009 Elio Grasso Nebbiolo
3rd Course
Old World Gnocchi~ with Gorgonzola Sauce infused with Chamomile Grappa
1994 Buon Padre Barolo
4th Course
Intermezzo~ Chilled Sliced Cucumber with Mascarpone & Strawberry
5th Course
Rabbit Cacciatore
1995 Buon Padre Barolo
6th Course
Veal Stuffed with Salami Rustico, Polenta with Truffles & Asparagus finished with Roasted Garlic and Grana Pandana
1993 and 1997 Buon Padre Barolo
7th Course
Baby Lettuces w/ dried Fruits, Toasted Pine Nuts & 18 year old Balsamic
1996 Buon Padre Barolo
8th Course
House-made Chocolate Tartufo with Bing Cherry center, Hazelnuts & Cream
1999 Guerrieri Rizzardi Vin Santo
9th Course
Assorted Cheeses from the Piedmont Region of Italy
1998 Buon Padre Barolo and 1978 Borgono Barbaresco
The Verdict
Guilty on all counts - of succumbing to the culinary artistry of Tim and Eli, the gracious hospitality of Melody and the wine making virtuosity of the Viberti family.