John Brown has been a wine and food columnist in West Virginia since the 1980's. His regular columns appear in the Charleston (WV) Gazette-Mail under the title Vines & Vittles and in The State Journal - a statewide business weekly
A tasting of 30 year old zinfandel. What's the verdict?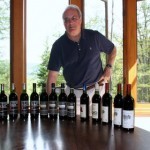 Benjamin Disraeli was famously quoted as proclaiming: "The magic of first love is our ignorance that it can never end."
With all due respect to the late and esteemed Mr. Disraeli, I must say that I disagree, particularly when it comes to wine. The first grape I ever had the pleasure of making into wine more than 30 years ago was zinfandel.  And even though the resulting  liquid  was so over-oaked that it resembled toasted wood more than  it did wine, I still love zinfandel (made by professionals)  to this day.
As I have noted in this space before
, zinfandel is the Rodney Dangerfield of red wines. It certainly doesn't get any respect and even though many enjoy it, very few people want to take it home to dinner.  Why?  Well, the truth is that zinfandel has an identity problem.  In fact, it has multiple identities.  Are you listening, Dr. Freud?
The grape is so versatile that winemakers make it in a variety of styles. From white to blush, from light    to  medium -bodied, from  full-bodied to purple monster, zinfandel can be a confusing wine to buy and, unless you are familiar with the style made by a particular winery, it is difficult to match it with food.
The other problem comes from some wine critics who have declared that, while zinfandel  has some utility and can be a pleasant quaff, it really cannot be taken seriously because it does not age gracefully.  Since it does not benefit from extended cellaring (they proclaim), it should be drunk within the first few years after bottling.
I won't deny that zinfandel – and almost every red and white wine produced on this planet – is best consumed within a few years after being made. However, I can attest to the fact that zinfandel does indeed age well and can be gracefully transformed into a multi-layered, subtle and complex wine - descriptors which are customarily reserved to describe revered  old Bordeaux.
How can I make such a claim?
  Read on.
To honor this much maligned varietal and to test just how well (or not) zinfandel can age, some zin- fanatics (and yours truly) put together a vertical, blind tasting of zinfandel produced from 1974 through 1982.
There were 11 wines in the tasting (ranging in age from 27 to 35) and all were placed in paper bags to hide their labels. The zinfandels were:  1974 through 1980 Sutter Home (Amador County);   1980 Grgich Hills (Alexander Valley); 1980 Burgess (Napa); and 1981 and 1982 Grgich Hills (Sonoma County).
While the cellar conditions where the wines were stored could not be described as perfect, they were reasonably good. My wines had been aged on their sides in a dark and vibration free area of the cellar that has consistent temperature and humidity.   My good friend and wine aficionado, Andy MacQueen, had contributed wines too and his cellar conditions were similar to mine.
The wines had been allowed
to sit upright for a week prior to the tasting to make sure all the sediment would fall to the bottom.  Just before the tasting, I carefully decanted the wines one by one into a carafe and immediately poured them back into the bottles which had been quickly rinsed to dispose of the sediment.  I also inserted the corks back in the bottles to prevent any further oxidation.
So with an assembled group of anxious and anticipatory wine geeks all fired up and ready, we got down to some serious sipping and evaluating.  Of the 11 wines, four were deemed by the group to be "over the hill" and virtually undrinkable. Those were the 1980 Burgess and 1976, 1978 and 1980 Sutter Home.  The remaining seven wines were all very drinkable and a couple of them were amazingly complex.
Some of the notes from the tasters
described these varied and diverse attributes:  'tack room and teaberry mint aromas; coffee, cola and spicy cherry flavors; licorice, mint and tea notes;  silky, rich, subtle; and  minty, sweet fruit, layered flavors.'
The consensus favorite was the amazing 1974 Sutter Home Amador County. I described it as "a wine with leather and teaberry mint aromas, silky tannins, rich, sweet cola flavors and remarkable length – a wine with another five or more years of life."  The 1975, 1977 and 1979 Sutter Home along with the 1980 Grgich Hills were also delicious examples of how well zinfandel can age.
No,  I'm not suggesting that you wait 30 or more years to replicate my tasting to determine if zinfandel can age as well as Bordeaux.   You just need to go out and experience today's zinfandel, a wine  that is chock full of spicy, minty, jammy, blackberry flavors . And you'll be amazed at how well zin goes with just about any full-flavored dish.
However, I have to admit
it does my hillbilly heart good to prove that the prevailing view among the wine cognoscenti (regarding zinfandel's inability to age well) is just one more de-bunked myth!