John Brown has been a wine and food columnist in West Virginia since the 1980's. His regular columns appear in the Charleston (WV) Gazette-Mail under the title Vines & Vittles and in The State Journal - a statewide business weekly
A special wine and an App to help you find the best paired dish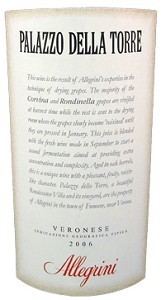 With summertime upon us, it is logical for most of us to sip lighter  whites such as pinot grigio, sauvignon blanc, riesling or a whole host of other refreshing wines. It's also common for us to drink lighter-styled reds and even chill them a little before consuming them.
One of the best lighter-textured reds
is Valpolicella. Produced from the relatively obscure corvina, rondinalla and molinara grapes, this red wine can be a very pleasant sipper and an excellent accompaniment to barbecue and other warm weather foods.
Today, however, in keeping with my annoying practice of taking a literary detour, I am not going to expound on the virtues of this lighter style wine. But I am going to discuss Valpolicella, and what happens to this timid quaff when a process called ripasso is employed during  wine making.  And, I'm also going to recommend the best wine I've ever tasted that uses the ripasso method.
To make a ripasso
, new Valpolicella wine is refermented by combining it with the pressings or pomace from Amarone (which is essentially Valpolicella on steroids), and sometimes with the addition of dried raisined grapes.
The resulting ripasso wine is considerably darker and fuller bodied than Valpolicella, but not as powerful as Amarone. The ripasso process was invented in the early 1960's by the well-respected Valpolicella producer Masi.
Recently, I had the pleasure of renewing my acquaintance with Allegrini Pallazo Della Torre. The 2007 version of this wine could be the best ripasso-style Valpolicella ($25) I have ever tasted.
Bursting with ripe, dark plum
and blackberry flavors, a nose of cola and cherries and with bracing acidity, this wine is tour de force (that means good in Cajun'). I paired the wine with grilled rack of lamb that had been marinated in olive oil, Dijon mustard, garlic, coarsely ground black pepper and lemons. Yummy!
In addition to Allegrini and Masi, other ripasso producers to look for are Zenato, Bertani, Tommasi, Farina, Righetti and Mazzi.
………
Excellent Food and Wine App
I'm always looking for new food and wine pairings to spice up my usually mundane existence and to give me something to look forward to at the end of busy work day. And, while there are literally millions of combinations from which to choose,
there are literally millions of combinations from which to choose!
So, wouldn't it be great if there was some quick "go-to" way to make your wine buying decisions easier? And, it sure would be nice to find a complimentary dish to accompany that wine selection too.
Well, a new free
mobile application can do just that!
I have pointed you in the past to the website of wine writer Natalie MacLean  (
www.nataliemaclean.com
) who devotes her life to helping us make wine selection decisions a lot easier. Her new mobile app will also help you pair that wine with a complimentary food too.
With the
"Wine Picks & Pairings app"
you can use your Smartphone camera to snap a picture of any bottle label bar code in the wine shop and get tasting notes, scores, and food pairings too. Pretty cool!
Natalie is a certified sommelier and an accomplished wine writer who knows how to provide concise and easy to understand information on the sometimes arcane world of wine and food. Check out her app.