John Brown has been a wine and food columnist in West Virginia since the 1980's. His regular columns appear in the Charleston (WV) Gazette-Mail under the title Vines & Vittles and in The State Journal - a statewide business weekly
Witch Creek Wines: spellbinding potion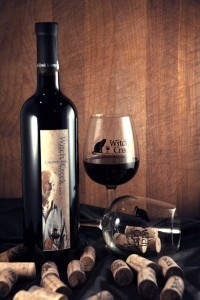 I consumed some palate pleasing red wine recently produced by a California winery with a West Virginia connection. Witch Creek Winery is a boutique operation located along the southern California coast in the village of  Carlsbad.
While the winery
produces varietals such as cabernet and syrah, I am particularly impressed with the meritage (blended) wines that Witch Creek concocts. The winery also makes nebbiolo, aglianico, sangiovese and primitivo, a group of Italian grapes that are not widely made anywhere in the US.
Some friends of mine living in Tucker County poured me a taste of the wine one evening as we sat and sipped, reveling in one of those glorious Canaan Valley sunsets. Good wine with Mother Nature's best. What an inspiring pairing!
Witch Creek
, which sources its grapes from some of California's most sought after AVA's, has also garnered a bevy of medals from prestigious wine competitions such as the one sponsored by the San Francisco Chronicle.
I was able to taste through most of what Witch Creek has to offer and came away wanting more. Unfortunately, because of the limited production, most of the wines are sold at the winery and to a few select restaurants in California.
However, because of the mountain state connection, a little of this lovely juice will make it back here to a few select wine shops and restaurants. Look for Witch Creek wines in places such as Snowshoe Mountain Resort and selected other areas in the Potomac Highlands. In Charleston, a limited amount of the wine will be available in the Wine Shop at Capitol Market.
Here are some notes
on three of the wines I tasted just this past week that you may wish to seek out.
2008 Reserve Cabernet Sauvignon ($40) – Medium-bodied wine with aromas of cola and ripe cherries. On the palate, this wine shows a spicy, peppery tone and finishes with a mocha impression. Grilled red meat would be my choice with this delicious wine.
2006 Kathy's Cuvee ($48) – This meritage is a classic Bordeaux blend of cabernet sauvignon merlot, cabernet franc, petit verdot and malbec. Balanced and complex with layers of berry fruit, this wine has a good tannic core and should benefit from three to five years more of bottle age. I would love to pair this with Veal Marsala smothered in Shitake mushrooms.  I recommend using Lombardo Marsala for the absolute best result.
2008 Dave's PG Red
($48) – Another meritage comprised of cabernet, merlot and sangiovese, Dave's PG(Pretty Good) Red is chock full of bright cherry and cola flavors with richness and good depth along with excellent balancing acidity. This one begs to be matched to grilled beef short ribs basted with a mahogany barbecue sauce. By the way, Dave's Red is better than "Pretty Good!"
For those of you who wish to try the whole Witch Creek line,  you may shop the winery online at www.witchcreekwinery.com and order directly from them.