John Brown has been a wine and food columnist in West Virginia since the 1980's. His regular columns appear in the Charleston (WV) Gazette-Mail under the title Vines & Vittles and in The State Journal - a statewide business weekly
Wines to please both the carnivore and vegan!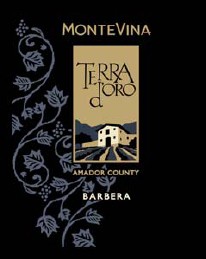 A 2004 Montevina Terre d'Oro Amador County Zinfandel ($22) will go great with the recipe below. I must admit: I am a carnivore -- especially when it comes to beef. Give me a piece of red meat and I'll rub that sucker with loads of black pepper, garlic and a little Kosher salt, and then I'll build a charcoal fire so big it will create its own micro-climate. Next, I'll roast the meat until the red inside just starts turning pink, and then I'll wolf it down with a big, purple wine that will make your lips pucker and your heart sing!
And while there's nothing better in this whole wide world than any type of meat or even fish on a grill, I must admit that I do enjoy my veggies, too, particularly the ones I procure from our own farmer's market here in Charleston. For the next six weeks, we'll have the opportunity to choose from a cornucopia of the region's most wonderful assortment of vegetables.
I am a fan of peppers! Green ones, red ones and especially hot ones. I have prepared peppers in more ways than the normal person can fathom. I roast them, stuff them, fry them, freeze them, can them and, above all, I consume them almost daily. One of my favorite ways to prepare red, sweet peppers combines stuffing, roasting and grilling. I think you'll love this recipe. Today, I'm going to share a recipe with you for a special summer time meal combining the best ingredients from my favorite food groups – red meat, vegetables and pasta. Oh, and I'll tell you about a wine or two that will make the whole experience even more pleasurable. This recipe is for two people so you can increase it depending upon the number you're serving
A MEATY NOTE: I get most of my meat from Sandy Creek Farms in Ravenswood or Johnnnies Meat at the Capitol Market. Sandy Creek Farms raises its own beef and pork, using only natural feeds such as corn, soybean meal, molasses and oats. It's about as organic as it gets and it is also terrific tasting. They deliver to Charleston once a week right to your door and you can contact them at 800-487-2569 or email them at This email address is being protected from spambots. You need JavaScript enabled to view it..
Preparing the meat and the peppers 1. Use a one and one-half inch rib-eye steak. Put a few drops of olive oil on each side of the meat and then rub both sides with a mixture of one-half teaspoon of kosher salt and minced garlic and one teaspoon of coarsely ground black pepper. Set aside for about one hour.
2. Cut two sweet red bell peppers lengthwise in half. Remove seeds and stems, rub inside and out with extra virgin olive oil and sprinkle with salt and pepper.
3. Place peppers on a roasting pan and cook in the oven at 350 degrees for about 25 minutes until soft, but still firm and set aside.
Preparing the pasta 4. Boil one-half pound of orzo (little pasta that looks like rice) in a combination of one-quart of water and one quart chicken broth, stirring constantly until the orzo absorbs the liquid and is al-dente.
5.Add salt and pepper to taste and one cup of grated pecorino romano cheese to the orzo. Spoon the orzo mixture into each of the roasted pepper halves and top each with a piece of provolone cheese. The Finish 6. Prepare your charcoal or gas grill and when ready, grill the steak and place the orzo stuffed peppers on the grill, but not over the fire. When the meat is cooked to your satisfaction, let it rest for about 10 minutes and then cut it in one-quarter inch slices and plate it with the roasted and stuffed red peppers.
The WineYou'll have many choices to match with this meal, but let me suggest these two lovelies: 2004 Montevina Terre d'Oro Amador County Zinfandel ($22) and/or the 2005 Le Gagie Barbera D'Asti ($23). Both of these wines would make delicious accompaniments to this meal.
Enjoy!