John Brown has been a wine and food columnist in West Virginia since the 1980's. His regular columns appear in the Charleston (WV) Gazette-Mail under the title Vines & Vittles and in The State Journal - a statewide business weekly
Wine and grilled veggies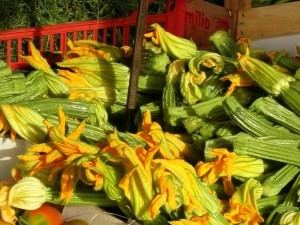 Boy do I love my grill! Not only does it provide me with the consummate summertime cooking tool, it also offers me the perfect excuse to postpone completing other (less enjoyable) chores like cutting the grass and cleaning out the basement.
Over the years I have touted the virtues of charcoal over gas grilling, but, regardless of your preference, nothing beats the flavor of outdoor cooking. Whether you're searing a hunk of red meat, slow roasting a rack of baby backs or smoking a filet of salmon, grilling improves the flavor of just about any food – even vegetables.
That's right, I said vegetables!
With a little preparation and a lot of imagination, you can coax a whole new palate of flavors out of veggies when you grill them. The key is to be vigilant and cautious because there is a fine line between delicious success and utter disaster. In other words, you need to tend them carefully or you could quickly end up with something more akin to forest fire remnants than grilled vegetables.
But I think it's worth the risk because grilling these edible plants also creates an added benefit for we wine lovers. The smoky, slightly charred flavors of grilled vegetables add a taste dimension that enables normally delicate plants like…say… green beans and asparagus to pair very well with medium bodied reds and fuller-bodied whites. Say hallelujah!!
So today, brothers and sisters, I'm going to suggest the perfect method to prepare, grill and serve up a platter of lip smacking vegetables that will transport a vegan to gustatory heaven, and make a veggie convert out of the most ardent carnivore. Then I'm going to suggest a couple of excellent wines to wash it all down.
I'm a big fan of the local food movement, and I spend a great deal of time perusing the aisles of our own Capitol Market 's outdoor section for fresh produce picked daily by area farmers. Right now, you can find just about any vegetable grown in the northern hemisphere from all manner of peppers, to corn, green beans, squash and, of course, tomatoes.
You may even find the unexpected. Just last week, I purchased zucchini blossoms (for 25 cents each) at the market, stuffed them with a mixture of goat cheese and provolone and sautéed them in some olive oil –spectacular! We ate these lovely, delicate morsels as an appetizer and accompanied them with 2009 Natura Sauvignon Blanc ($11) from Chile.
Marinated and Grilled Veggies:
1 red and one yellow bell pepper, seeded and cut lengthwise in half
2 peeled zucchinis, two yellow squash, cut lengthwise into half-inch wide rectangles
1 large onion, peeled and cut into quarter inch circles
1 lb. asparagus, bottom two inches cut off spears
2 hot (optional) banana peppers, cut into long strips one inch wide
2 bulbs of fennel, split lengthwise, top two-thirds discarded
2 heads of radicchio (aka red chicory) halved
2 Portobello mushrooms cut in half
4 ounces of shredded mozzarella
3 ounces of extra virgin olive oil
2 talbespoons each of balsamic vinegar and chopped fresh basil
2 teaspoons each of kosher salt, black pepper and minced garlic,
Prepare
a marinade by combining and blending the olive oil, minced garlic, balsamic vinegar, salt, pepper and basil
Place
veggies in a large bowl and mix, allowing the vegetables to marinate for one hour
Fire up
a charcoal or gas grill to medium heat and place the vegetables on the grill surface, being careful not to allow smaller ones to fall into the fire. Turn them regularly to avoid burning
When veggies are limp and tender, arrange them on a plate in layers, sprinkling the cheese in between layers and drizzling olive oil and balsamic vinegar on top. You can also sprinkle additional chopped basil over the top.
Allow the vegetables to come to room temperature and serve by themselves or as an accompaniment to any grilled meat, sausage or fish dish
The great thing about grilled vegetables is their versatility in working with both red and white wines. I think you'll like how they pair nicely with the 2008 Castle Rock Pinot Noir Carneros ($14) or the 2008 Franciscan Chardonnay ($20).