John Brown has been a wine and food columnist in West Virginia since the 1980's. His regular columns appear in the Charleston (WV) Gazette-Mail under the title Vines & Vittles and in The State Journal - a statewide business weekly
Wine and food vacation options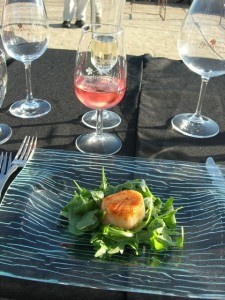 If you haven't already done so, it's probably time to start planning your summer vacation. You may be considering the beach, the mountains or a cruise for your holiday this summer, and I hope you enjoy yourself whatever your destination.
I am fortunate to have a partner who is copacetic with my desire to spend our free time grazing all over the world in pursuit of the perfect food and wine pairing. In recent years, we've spent enjoyable sojourns to California, Oregon, Italy and France sampling the local cuisine and wine.
If you're reading this, I'm sure you have at least a passing interest in food and wine so today I'll mention two vacation ideas and a guided tour that may appeal to you as alternatives (or additions) to your travel plans this summer.
The Food and Wine Classic in Aspen
June 17-19,
For 28 years, the Food and Wine Classic in Aspen, CO has been one of the premier culinary and wine events in America. Each June, FOOD & WINE magazine hosts consumers, members of the restaurant industry and press in mountains of Aspen.
The three-day weekend is chock full of cooking demonstrations and wine tastings. Seminars are led by wine and food personalities such as Mario Batali, José Andrés, Jacques Pépin, and Joshua Wesson. To register, call 877-900-9463 or visit www.foodandwine.com/classic.
International Pinot Noir Celebration
July 29-31
For the past 24 years, the IPNC has been hosting pinot noir fans and food lovers from around the world in McMinnville, Oregon (the heart of the Willamette Valley). I have attended this gathering on three occasions and can tell you from personal experience this is a fantastic event for wine and food fans.
The 2011 IPNC will reunite winemakers, chefs, media and guests from the first event in 1987 and the past 24 gatherings. There will be more than 70 international Pinot noir producers, 50 Northwest chefs, and guests from just about everywhere in the world. Tickets are sold on a first come, first serve basis! To sign up go to www.ipnc.org or call 800-775-4762.
Slight Indulgence Wine Shop French Wine Tour
June 30- July 10
Many of you who travel the state have met JC and Suzy Warman – owners of Slight Indulgence wine shop in Morgantown. The couple is hosting an 11-day trip to France to visit wineries and the regions of Burgundy, Bordeaux and Alsace. This promises to be an unforgettable experience for you wine and food lovers out there. For information, please call JC at 304-599-3402.
Wherever you venture this summer (even if it's only to your front porch), have a good time and a great sip !