John Brown has been a wine and food columnist in West Virginia since the 1980's. His regular columns appear in the Charleston (WV) Gazette-Mail under the title Vines & Vittles and in The State Journal - a statewide business weekly
Wine and Food at The Greenbrier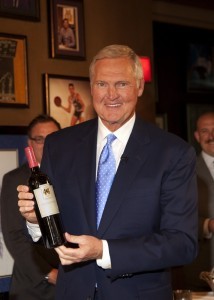 If you are a wine and food fanatic (and you wouldn't be reading these words otherwise), you've got to love what Jim Justice has done in breathing new life into the Greenbrier Resort. Let's face it, the grand old lady was slipping before he stepped up and rescued this venerable and historic resort.
By renovating the rooms
and public places, constructing a very tasteful casino and developing a world-class golf tournament, Justice is working tirelessly to upgrade the resort with the goal of achieving five-star status.
With all due respect to the above-mentioned achievements, I am particularly impressed with the efforts to elevate the wine program and cuisine at the Greenbrier. In addition to the elegant Main Dining, Draper's and Sam Snead's at the Golf Club, the resort has added In-Fusion (a pan-Asian restaurant), The Forum (Italian) and Prime 44 West Steakhouse named after basketball great and state native Jerry West.
I've had the pleasure
of dining at all of the establishments mentioned and I can tell you that particular attention is being paid to making sure that the wine lists are specifically tailored to the menus of the various restaurants. Why should that come as a surprise, you may ask?
Well, the range of complex dishes prepared at the various dining venues is stunning, and it would be so much more manageable to keep just one  well-rounded list and use it for each different restaurant.
But not at the Greenbrier.
Through coordination and consultation among food and beverage president Jeremy Critchfield, executive Chef Richard Rosendale and director of wine Heath Porter, the resort is able to tailor each restaurant's menu with wines that match and enhance the culinary focus. And, since the menus are regularly evolving, the wines are constantly changing.
So if you have not visited the resort recently, you should treat yourself and that special other person in your life to a little R&R at the Greenbrier. In fact, the resort is offering a few wine-oriented events this fall that should tickle your palate.
Trefethen Vineyards
Janet Trefethen, of the Napa Valley winery of the same name, will be at the Greenbrier on September 9 & 10. Trefethen Vineyards has been winning international acclaim since the 1970's and features some of the most elegant cabernet sauvignon made in Napa. In fact, the winery provides the cabernet for Prime 44, the Jerry West signature label.
Ms. Trefethen is the matriarch of this family winery and will lead guests in a tasting on Friday, Sept. 9th from 5 to 6 p.m. ($50 per person). On Saturday at 6:30 p.m., Ms. Trefethen will join Jerry West and other guests in a special wine dinner at Prime 44 ($250 per person).
Talley Vineyards
Brian Talley of Talley Vineyards will be at the resort on Oct. 6th and 7th for a tasting and grand wine dinner. Talley Vineyards is located in the Arroyo Grande Valley
just south of San Luis Obispo in the heart of California's Central Coast wine region. The winery focuses on chardonnay and pinot noir.
On Friday, Oct. 7, at 4:30 p.m., Brian Talley will lead a tasting featuring 6 wines including many single vineyard wines and older vintages ($40 per person). On Saturday at 6:30 p.m., join Talley and other guests for a special five-course dinner with six matching wines ($150 per person).
Qupe Vineyards
Bob Lindquist, winemaker of Qupe Vineyards in the Santa Maria Valley (just north of Santa Barbara) will showcase his wines on Friday, October 28 at 5 p.m.($50). Lindquist and Qupe focus on Rhone Valley varietals such as marsanne, viognier, grenache and syrah. Qupe is considered among the finest syrah producers in the US.
For further information on these tastings and other Greenbrier events, you may call 800-453-4858.