John Brown has been a wine and food columnist in West Virginia since the 1980's. His regular columns appear in the Charleston (WV) Gazette-Mail under the title Vines & Vittles and in The State Journal - a statewide business weekly
W.Va. Wines: There's grapes in them there hills!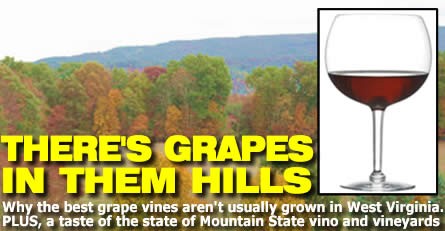 Each year about this time, I join a group of West Virginia wine lovers who are called upon to select the best wines produced by state wineries in seven different categories (e.g., dry red; semi-sweet white; dry white; dessert, etc.). This annual tasting gives me a pretty good indication and historical perspective on the quality of Mountain State wines since we've been judging the competition for about 15 years. I'm happy to report that West Virginia-made wine has improved steadily over the past decade. I'm also happy to report that the number of wineries has increased from just a few to 17 in the past ten years.
While many of these wines can be good to exceptional, wine makers in the state face very difficult growing conditions that force them to use vines that can limit their ability to make great wines. Why? There are many key elements to producing a good bottle of wine, including soil, climate, geography and wine making competence. But the most essential component is the grape itself, and the family of vines to which it belongs.
The world's most famous wine grapes such as cabernet sauvignon, chardonnay, pinot noir, riesling, sauvignon blanc, zinfandel and a thousands of others belong to a class known as vitus vinifera. Two other classes of wine grapes are vitus labrusca, native American vine-producing grapes such as concord and catawba, and French-American hybrid grapes such as seyval blanc, vidal blanc and chambourcin.
Labursca can make decent, but distinctly flavored wines while French-American hybrids (which are French vines grafted onto American rootstock) produce wines significantly better than labrusca but not as fine as vinifera vines.
So, in the quality hierarchy, vinifera grapes produce, by a far measure, the best quality wines followed by French-American hybrids and then labrusca varietals. The point of all this is simply that vinifera grapes make the best wine. Why, then, don't more West Virginia wine makers produce vinifera grapes if these make superior wines? Well, the fact is that labrusca and French-American hybrids are considerably more hardy and prolific than vinifera. They are also less susceptible than vinifera to mold, diseases and the sometimes harsh realities of West Virginia weather.
In other words, vinifera vines are very delicate and require more moderate temperatures than we typically experience in West By Golly. Our summers are too hot and our winters are too cold to sustain and successfully grow vinifera in the state on consistent basis.
It's really amazing, then, that wineries in Virginia -- just across the Allegheny Mountains -- can grow cabernet, chardonnay and even viognier (as well as other vinifera varieties) with relative ease while our climate limits our ability to be successful. And while it is certainly more difficult to grow vinifera in West Virginia, it is not impossible to do so and one winery in particular has been successful at it for years.
Charles Whitehill is the owner and wine maker at Potomac Highland Winery in Keyser and he goes to great lengths and takes great pains to insure that his riesling and chardonnay vines survive the harsh winters and hot summers of the eastern West Virginia mountains. But the results, as far as I am concerned, are well worth the effort.
I'm sure we will see more West Virginia wineries add vinifera to their stable of wines in the coming years. Still, I am really impressed with the overall quality of the wines being produced in our state and I hope you will try them. The wineries are also fun places to visit and usually have tasting facilities where you can sample the wines. However, because these wineries are relatively small operations, it is always a good practice to call ahead before visiting them.
Below is a listing of state wineries with contact information I obtained from the WV Department of Agriculture website.
Cascarelli's Old Country WineRt. 3, Box 55A
Salem, WV 26426
304/782-2768

Daniel Vineyards200 Twin Oaks Road
Crab Orchard, WV 25827
Phone: 304/252-9750

Fisher Ridge Winery 325 McKinley Avenue
Charleston, WV 25314
Phone: 304/345-2306

Forks of Cheat Winery2811 Stewartstown Road
Morgantown, WV 26508
Phone: 304/598-2019
Jones Cabin Run Vineyards HC 71Box 129F
Tanner, WV 26137
Phone: 304/462-4446

Kenco FarmsP. O. Box 454
Sutton, WV 26601
Phone: 304/765-7980
Kirkwood Winery45 Winery Lane
Summersville, WV 26651
Phone/FAX: 304/872-7332

Lambert's Vintage Wines, LLC190 Vineyard Drive
Weston, WV 26452
Phone: 304/269-3973 or 4903

Martin's Mist WineryRR 2, Box 104Buckeye, WV 24924
304/799-6455

Mountaineer Winery3252 Mason Dixon Highway
Core, WV 26529
Phone: 304/879-5912

Potomac Highland WineryRR 6, Box 6980
Keyser, WV 26726
Phone and Fax: 304/788-3066

Roane Vineyards1585 Reedyville Road
Spencer, WV 25276
Phone: 304/927-1939

Robert F. Pliska and Co. Winery101 Piterra Place
Purgitsville, WV 26852-0101
Phone: 1-877-RGRAPES

Toscano in Appalachia WinesRR 1, Box 251
LeRoy, WV 25252
304/275-3936
Watts Roost Vineyard2245 Blue Sulphur Pike
Lewisburg, WV 24901
304/645-5308 or 304/667-8843

West-Whitehill Winery 4484U.S. 220 S.
Moorefield, WV 26836
Phone: 304/538-2605

WolfCreek WineryHC 75, Box 36A
Wolfcreek, WV 24993
Phone: 304/772-5040