John Brown has been a wine and food columnist in West Virginia since the 1980's. His regular columns appear in the Charleston (WV) Gazette-Mail under the title Vines & Vittles and in The State Journal - a statewide business weekly
Remembering Robert Mondavi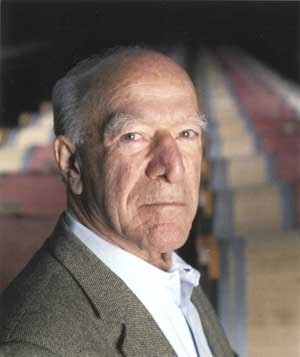 Robert Mondavi's enthusiasm for all things related to wine and his own winery was both heartfelt and infectious.
One of the icons in the world of wine died last week. Robert Mondavi, 94, passed away at his home in the Napa Valley after a lifetime of literally and figuratively toiling in the vineyard to insure the growth of wine appreciation around the world. Wine to Mondavi represented more than just a pleasant beverage to enjoy with friends and family around the dinner table.
In his 1998 autobiography, "Harvests of Joy," Mondavi said: "My passion for bringing wine into the American culture was motivated by a desire to plant deep into the soil of our young country the same values, traditions and daily pleasures that my mother and father had brought with them from central Italy: good food, good wine and love of family."
He was born to Italian immigrant parents in Virginia, Minnesota, in 1913 where his father had a business supplying wine grapes to other immigrants who worked in the iron ore mines of the region. The family moved to Lodi, California and then later to the Napa Valley. During this time, Robert worked with his father and brother at the Sunny St. Helena Winery. In 1936, he graduated from Stanford University with a degree in marketing.
During World War II, he and his brother Peter convinced his father to purchase the Charles Krug Winery. At Krug the brothers managed the moderately successful winery until family differences forced Robert to establish his own winery in 1966.
The Robert Mondavi Winery was an architectural masterpiece and the first showcase wine facility in the Napa Valley. Mondavi's innovative public relations ideas and his sales acumen made the winery a must stop spot for wine lovers and tourists alike. He also traveled around the world as a wine evangelist, touting Napa Valley's labors . In 1979, the Robert Mondavi Winery joined forces with Bordeaux First Growth winery Chateau Mouton Rothschild to produce Opus One. Today, Opus One is considered among the best wines in world.
As a personal aside, I had the opportunity to sip that first vintage of Opus during a visit to Mondavi in 1981-- and I owe it all to chili. Let me explain. A few months before the visit to Mondavi, I had won the West Virginia State Chili Cook-off at Snowshoe. My prize: two tickets to L.A. to compete in the World Chili Championship.
While I did not win any prizes in LA, my wife and I, along with two other couples, rented a van for a trip up the Pacific Coast Highway to visit the wine country of Napa and Sonoma. We had called ahead to the Mondavi Winery to see if we could get a tour of the facility. Much to our shock and surprise, our tour guide was Robert Mondavi.
A gracious and humble man, Mondavi's enthusiasm for all things related to wine and his own winery was both heartfelt and infectious. After walking us through the winery, he stopped in a large cool room where hundreds of new French oak barrels were stacked. Grabbing a long glass tube he called a "thief," he pulled the bung on one of the barrels and extracted wine from it and put a little in each of our glasses. Then he put his nose to the glass, breathed in the heady aroma of the deep purple wine and said: "Salute."
As we all sipped this very young and tannic wine, Mondavi explained to us that we were drinking the first vintage of Opus One which would be bottled sometime in the future. What a treat! After a lunch where we were joined by other employees of the winery, we were given two bottles of Schramsberg Sparkling wine along with directions to the site (on the top of a hill in the middle of the Napa Valley) where construction was about to begin on Robert Mondavi's new home.
At sunset, we ascended the winding gravel road to the top of the hill and found an old and gnarled Acacia tree under which we opened the Schramsberg and toasted Robert Mondavi.  Today, as I reflect on his passing, I once again lift my glass to that very special man. Rest in peace!