John Brown has been a wine and food columnist in West Virginia since the 1980's. His regular columns appear in the Charleston (WV) Gazette-Mail under the title Vines & Vittles and in The State Journal - a statewide business weekly
Provence: A cure for the blah's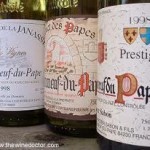 I'm easily bored. Whether that's a sign of a sterile imagination or an attention deficit disorder, I will admit that I am always searching for new experiences to stimulate me. Heck, maybe I need a curiosity transplant.
Anyway, that's probably why I'm obsessed with wine and food where there are endless opportunities to feed my insatiable appetite for variety. It's hard to be bored with a subject that can never be fully explored.
So when I'm tired
of a particular wine or dish and the blahs are about to take hold, I simply close my eyes, imagine a map of the civilized world and select a place where I know the eatin' and drinkin' will be (as we say here in the Kanawha Valley) Spay-shull !
How about Provence in southern France?
While Provence is not as well known for its wines as say Bordeaux, Burgundy or Champagne, you may be assured that vines grown in this beautiful and topographically diverse landscape produce some excellent bottles.
Several years ago
, I visited the area and actually spent a week in a small village, Menerbes, which was made famous by a PBS Television series entitled: "A Year In Provence." The series was a film adaptation of a book by the same name written by Peter Mayle.
Anyway, my daily sojourns into the Provencal countryside yielded not only excellent wines, but also delicious regional foods, including a plethora of wonderful cheeses, fruits, and vegetables along with excellent lamb as well as seafood fresh from the Mediterranean.
The most prestigious wine of Provence, and also the most expensive, is Chateuauneuf Du Pape, a full-bodied red that has excellent aging potential. But you don't have to spend more than $10 to $20 a bottle to get a truly excellent wine. Red wines from Provence are characterized by peppery, spicy, dark fruit flavors and they pair especially well with roasted meats and grilled vegetables.
There have been
an incredible string of good to superlative vintages in Provence and the Rhone region over the past decade, particularly from 1998 through 2009. In fact, the excellent wines of 2007 are now being eclipsed by the spectacular 2009 vintage.
The ubiquitous red grape of the region is grenache which is blended with the more famous syrah, along with other lesser known varieties, to produce Chateauneuf Du Pape and the other reds of Provence.
After the producer's name on the label, the wines are also identified by the villages near where the vines are grown. The most famous of these are Gigondas, Vacqueyras, Beaumes-de-Venise (famous for white dessert wine) and Tavel.
In fact, some the world's best rose is produced in Tavel.  Wines from Provence called Cotes Du Rhone,  made from both white and red grapes, are readily available and worth seeking out since they represent value and quality.
While red is still king in Provence and the Rhone, the whites can be very good too. Some of the more famous whites grown in Provence are viognier, marsanne and roussanne. These whites can be medium to full-flavored and match up well to the area's excellent seafood and dishes such as Bouillabaisse.
Visit your local wine shop and have them point you to the wines of Provence. They're guaranteed to cure the blahs!