John Brown has been a wine and food columnist in West Virginia since the 1980's. His regular columns appear in the Charleston (WV) Gazette-Mail under the title Vines & Vittles and in The State Journal - a statewide business weekly
My trip to Italia - Part I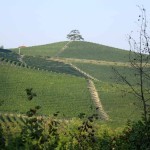 I've travelled a few times to that ancient and venerable land of vines and wines we call Italy, but I had never explored one of that country's most heralded regions, Piemonte. In the next two blogs, I will recount my visit to Piemonte as well as my short stay in the region of Tuscany. 
Nestled in the northwest corner of the Italy and in the shadow of the Alps, Piemonte is home to perhaps the most revered of all Italian wines – Barolo.  It is also the region where the equally esteemed Barbaresco is produced, as well other excellent reds such as barbera and dolcetto.  The main white of the region is the delicate arneis, a grape producing  a delightfully fresh and dry wine which  sometimes has just a touch of frizzante or sparkle. Some wineries also produce chardonnay in a style reflecting Burgundy more than the new world.
After a flight from Rome to Milan, we rented a car and travelled the 100 miles toward the village of La Morra where we had booked rooms in an "agriturismo."   An agriturismo is a farm or historical edifice that has been restored and converted into a lodging facility. The one we chose, Cascina Del Monastero, is actually a working winery.
This  16th Century farm house was inhabited by Benedictine friars for three centuries and now has ten large suites which are tastefully decorated.  The farm became a winery in 1926 when the current owner's grandfather purchased it.  Giuseppe and Velda Grasso were our hosts for our four day stay and are really warm and accommodating folks.
 Vineyards above Cascina Del Monastero
My travelling partners included my wife, brother-in-law and sister-in-law .  All of these long-suffering folks are accustomed to my obsession with wine and food, and also provided occasional, but necessary, interventions to curb (as my wife put it) "my enthusiasm for trying to experience too much of everything all of the time."
Anyway, with the Cascina as our headquarters, we set out to explore the vineyards, wineries and exquisite cuisine of the Barolo and Barbaresco regions.  First stop was near the village of Treiso and the   winery of Cantina Vignaioli Elvio known as Pertinace.  Pertinace is actually a cooperative winery and blends the fruit of 19 growers in the Barbaresco and Barolo appellations.    
Cesare Barbero is the winemaker and he tasted us through the entire line of wines from Chardonnay and Arneis, to the reds - Dolcetto, Barbera , Barbaresco's and Barolo. We capped off the tasting with a late harvest moscato that was heavenly. 
The good news is that the Pertinace wines are very reasonably priced (in the $15 to $40 range) and are now available in West Virginia.  Be sure and look for the 2008 Arneis   along with 2007 Dolcetto and the 2006 Barbera - which is rich, round and full of blackberry flavors. The excellent 2004 Barbaresco and Barolo are also worth seeking out. The Barbaresco in particular exuded a wonderful rose petal aroma and had dark plum tones with excellent balance.  
Tasting wine is very exhausting business and it was necessary for us to recharge our batteries often and so, with the gracious assistance and recommendation of folks at the Cascina and in the wine trade, we felt it obligatory to sample the cuisine of Piemonte at every opportunity. 
As the original home of the "slow food" movement,  the Piemontese believe in using local and seasonal ingredients as the centerpiece of the meals they consume.  In the fall, mushrooms and squash along with red and yellow peppers predominate.  Surprisingly, these people are not salad eaters, nor do you see a whole lot of green vegetables on the table. Of course, pasta in all sizes and shapes is served as primi piatti (first course), but with sauces more white than red.
The region's most famous culinary delight is the white truffle – an aromatic  delicacy that looks like a stone, is hunted and sniffed out by trained dogs,  and then  surreptitiously dug up by  devious sorts who would rather see their first born taken by gypsies than give up the location of their buried treasure. 
Once the white truffle is brought back to civilization, it is sold at outrageous prices to restaurateurs who then shave it into paper thin slices over all manner of dishes.  It is a very expensive condiment, adding as  much as $35 to your dish of pasta or risotto.
 I actually passed on the little buggers, preferring instead to feast on the incredible array of mushrooms that were bountiful, scrumptious, inexpensive and prepared in an amazing number of ways. Veal, of course, is the meat of choice followed by lamb, chicken and rabbit all of which are exquisitely sauced, many times with Barbaresco or Barolo as the base.
Lamb over polenta in a Barolo sauce
Tune in next week and I'll tell you more about my visit to the wine Country of Piemonte, and to a great winery in Tuscany.