John Brown has been a wine and food columnist in West Virginia since the 1980's. His regular columns appear in the Charleston (WV) Gazette-Mail under the title Vines & Vittles and in The State Journal - a statewide business weekly
More Monterey County wines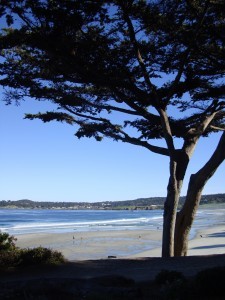 My short stay in Monterey County was highlighted by several tastings at some of the area's best wineries. As I mentioned a couple of weeks ago (in my first installment), Monterey is a sea of wine with nine distinct American Viticultural Appellations or AVA's.
While the county is probably best known for pinot noir and chardonnay, the amazing geographical diversity of the area allows wine makers to plant and vinify a wide variety of grapes. From cabernet sauvignon, merlot and cabernet franc to sauvignon blanc, viognier and riesling, to syrah, zinfandel and petit sirah, you name it and Monterey County probably produces it.
My base of operations in the county was the idyllic coastal village of Carmel By The Sea. Probably better known outside California as the town Clint Eastwood led as mayor some years ago, Carmel is a charming little berg with excellent small inns and restaurants.
Carmel is also adjacent to the world famous Pebble Beach Resort where the US Open Golf tournament was recently completed. As a golfer, I am an accomplished wine drinker.
That is to say, while I'm not very good advancing that little white ball down the fairway and into the hole, I do enjoy (and am very adept at) the après golf scene, particularly the "19th" hole tradition of toasting the game. At about $500 for a round of golf at Pebble Beach, I decided to forego the first 18 holes and , instead, go directly to the clubhouse for the 19th hole toast.
But my real reason for being in the county was to taste my way through a representative sampling of wines .So after a short trip up the Carmel Valley AVA, I found myself at another Monterey County winery, Heller Estate.

Heller is a certified organic farm winery which means all the grapes at the winery are 100 percent organically grown. No pesticides or herbicides are used and weeds are controlled by planting cover crops. While organic certification is no guarantee the wines will be any good, it does demonstrate a commitment by the winery to do things in an environmentally responsible manner. Happily, though, Heller wines are very good.
Heller produces more than 15 wines and I actually tasted most of them. In fact, they make petit verdot (one of the blending grapes in Bordeaux) as a single varietal and the 2007 ($25) is a mouthful of wine with tones of chocolate, pepper and dark fruit.
While the 2007 Chardonnay ($24) is an excellent, balanced wine with hints of apricot and citrus, it is the 2008 Chenin Blanc ($25) that captivated me. I was impressed with the full mouth feel and richness of the wine. It also possesses the crispness to not only be a good accompaniment to lighter style seafood and chicken dishes, it also would make a nice aperitif.
The red wines are led by a 2002 Merlot ($30) which tastes more "right bank" Bordeaux than California. It's amazing the wine is still available for sale and it shows how good merlot can be when it is grown in the appropriate AVA. Full, supple and rich, it still has a life and would go wonderfully well with roast pork tenderloin in a mustard crème sauce.
The 2007 Dancer's Meritage ($24) is a symphony of flavors with a nice balance of cabernet sauvignon, merlot and other traditional Bordeaux blending grapes adding to the harmony of this silky wine. Smooth around the edges, it would make a nice pairing with grilled veal chops marinated in rosemary, garlic and olive oil.
You might also sample the wines of Bernardus, Cima Colina, Morgan, Estancia, Galante, Paraiso and Mer Soleil – all from Monterey County. Ask your wine retailer about the wines mentioned. Many are available, but you may need to order others online. Simply Google the winery and check out the instructions for online ordering.
Some much wine, so little time!