John Brown has been a wine and food columnist in West Virginia since the 1980's. His regular columns appear in the Charleston (WV) Gazette-Mail under the title Vines & Vittles and in The State Journal - a statewide business weekly
End of summer goodies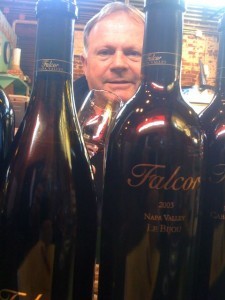 Today, I want to share a few recommendations from some red wines I've sipped recently and which I think you will enjoy too. They come from places as geographically diverse as California, Germany and Italy, but that's one of the great aspects of wine appreciation: if you can't find what you're looking for, there's always someplace else to look.
I have been a long time fan
of Sebastiani Winery located in the town and county of Sonoma. In fact, Sebastiani was the first  winery I ever visited – way back before Al Gore invented the Internet. Over the years and through many Sebastiani family leadership changes two things have remained consistent: quality and value.
So I was concerned when I read that the family had sold the winery a few years back to the Foley Wine Group. My concerns, though, were unfounded as evidenced by the continuity of quality in the wines produced to this day. Recently, I tasted a couple of wines that reinforced this view.
California
Merlot has gotten a bad rap ever since the movie Sideways. As the price of merlot dropped, I happily benefited and stocked up on as much of the stuff as I could afford. Appreciation for Merlot (unfortunately for me) is ramping back up and the following effort from Sebastiani clearly demonstrates why.
2007 Sebastiani Sonoma County Merlot ($19) – This is a very focused wine with spicy plum and earthy flavors balanced by tannin and a nice touch of acid. Try it with grilled lamb chops basted with garlic, lemon and olive oil.
2009 Sebastiani Pinot Noir
($18) Wonderful balance in this elegant, value-priced pinot noir. Ripe cherries, some vanilla and bright acid characterize this wine from the cool Sonoma Coast. Grill a filet of salmon that you've dusted with cumin, brown sugar and a little chili powder, and then wash it down with this supple sipper.
It is not hard to say good things about Falcor Winery. This Napa Valley operation owned by two Charleston lawyers has produced exceptional wine for more than 15 years.
Their stable of products, which include a ripe and rich chardonnay and deep and full bodied reds such as zinfandel, pinot noir, cabernet sauvignon, sangiovese and syrah, are sourced from some of the best vineyards in Napa and other highly sought after California appellations.
I am particularly fond of their Bordeaux-like blend called Bijou.Recently, another blended wine from Falcor has caught my eye…er palate.
2006 Falcor Bilancia
($36) A blend of 57% Zinfandel, 33% Petit Sirah, 7% Charbono, 2% Carignan, and 1% Valdiguie, Bilancia is a textbook example of why vintners choose to blend. Round and rich flavors of dark fruits, mocha and spice are balanced by bright fruit and good acidity. With fall coming on, I would pair this wine with braised short ribs rubbed with garlic and black pepper and cooked in a bath of tomato sauce and red wine.
Italy
2008 Aia Vecchia Lagone ($19) What a find! This beauty from Bolgheri near the coast in Tuscany is Italy's version of Bordeaux with a blend of merlot, cabernet franc, cabernet sauvignon, and sangiovese. Rich and velvety with ripe black cherry and cola flavors, the Lagone can be drunk now and will continue to benefit from aging for several years to come. I enjoyed this baby with eggplant stacked and layered on the grill with garden tomatoes, fresh mozzarella and basil.
Germany
2010 Noble House Sweet Red ($10) Some of us take wine seriously…too seriously. Noble House Sweet Red, made from dorfelder (a funny name, don't you think?), will put a smile on your face! And it's really not very sweet, but it is full of great cherry and red fruit flavors. It's also a surprisingly good accompaniment to food. Serve it slightly chilled and enjoy it as an aperitif on the porch or at the picnic table with a burger or some pulled pork barbecue.