John Brown has been a wine and food columnist in West Virginia since the 1980's. His regular columns appear in the Charleston (WV) Gazette-Mail under the title Vines & Vittles and in The State Journal - a statewide business weekly
Canaan - Wild and Wonderful Wine Weekend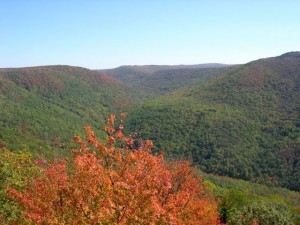 Canaan Valley Resort is once again planning their "Wild, Wonderful Wine Weekend" this fall. Join me and other wine and food lovers on November 11-13 for an entertaining and educational gourmet extravaganza. I'll select wines from around the world that will be paired with a cornucopia of culinary delicacies prepared by Canaan Valley Resort's executive chef Eric Buchinger.
It's always fun to work
with culinary professionals in pairing wines with their scrumptious creations, and the folks at our state's most scenic resort always hit the mark at this signature event.
The weekend begins Friday, November 11 at 7 p.m. with a "taste-around reception" where wines from the world's most prestigious regions can be sampled with matching culinary treats from food stations featuring a wonderful selection of foods upon which to graze (see below).
On Saturday,
guests will be treated to a four-course wine-paired luncheon followed later in the afternoon by a tasting of wines selected and led by yours truly. After the tasting, guests will be free to hike, bike, nap (what I plan to do) or just enjoy Mother Nature's purple mountain majesty!
The evening's activities begin at 7 p.m. with a six-course grand gourmet dinner with accompanying wines.
Hopefully, the menus below will get your collective palates watering in anticipation. I haven't completed selecting all the wines at this writing, but you can be assured that I will do my best to make you happy.
Reception
Seafood station
Shrimp, Oysters, Scallops and Crab Cakes
Meats
Braised Short Ribs, Teriyaki Beef Skewers, Pot Stickers
Hors D' oeuvre Display
Imported cheeses, Italian Meats, mousse, and pâté.
Dessert Station
Lunch
Vegetable Terrene
Fried Green Tomatoes with Plum Shrimp
Smoked Beef Brisket Ravioli
Chocolate Espresso Cake
Dinner
Crab Bisque
Pork & Peaches (seared pork belly with a caramelized peach atop)
Cajun Snapper
Citrus Chicken
Stuffed Tenderloin of Beef
Chocolate Napoleon
Guests have the option of attending the entire weekend for a package price, or choosing to participate in individual events ala carte. For pricing and additional information or reservations call 800-622-4121 or visit online at www.canaanresort.com.
Hope to see you there.