John Brown has been a wine and food columnist in West Virginia since the 1980's. His regular columns appear in the Charleston (WV) Gazette-Mail under the title Vines & Vittles and in The State Journal - a statewide business weekly
A weekend in Oregon with pinot noir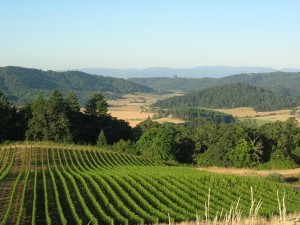 I have a love affair with pinot noir! Among its many attributes, I am most impressed (and mystified) by the wine's unique ability to pair incredibly well with an array of edibles, including fish, fowl, lamb, beef and a whole host of vegetables.
Pinot noir is a very difficult wine to produce. From vineyard to bottle, it is a perilous journey for this thin-skinned grape which gained it's world-class reputation in the fields of Burgundy. There, Mother Nature can be cruel and, on average, only three in ten vintages escape the ravages of hail, cold temperatures or harvest rain to produce excellent wines.
Here in the U.S.,
the problem with pinot noir for the first three-quarters of the 20th Century wasn't the weather, but rather the heavy-handedness of the few wine makers who grew the grapes, more often than not in completely inappropriate soils and microclimates.
Pinot noir needs a long, cool growing season to reach its full potential, and then must be vinified into wine by deft, artisan wine makers who understand and appreciate the complex nature of the grape. Until the 1980's, most American pinot noir producers were more Attila the Hun than Emily Post.
However, in the past three decades, we've come a long way baby!
Now California and Oregon
, along with other new world pinot noir producers like those in New Zealand and Chile, are getting the most out of this temperamental grape. While each country (and viticultural appellations within them) produce distinctive versions of pinot noir, the good news is the wines are now uniformly good.
To get my pinot noir fix, I once again attended the International Pinot Noir Celebration (IPNC) in McMinnville, Oregon in the heart of the Willamette Valley. This weekend-long event held in July of each year is the Holy Grail of pinot noir gatherings. I have written about this marvelous wine and food extravaganza in year's past, but it bears repeating.
The northern Willamette Valley
(about 60 miles south of Portland) is where the most famous Oregon wineries are located within several American Viticultural Appellations (AVA's) including Chehalem Mountains, Dundee Hills, Eola-Amity Hills, McMinnville, Ribbon Ridge, and Yamhill Carlton.
Within these AVA's,
wineries such as Domaine Serene, Argyle, Elk Cove, Ken Wright, Ponzi and more than 200 others produce pinot noir in styles distinctly different from wines made from the same grape grown in different parts of the world. In fact, I believe pinot noir from the Willamette Valley has more in common with Burgundy than it does with wine produced from the same grape in California.
Don't assume, however, that all pinot noir made in Oregon tastes exactly the same. It doesn't. Yet there is a taste characteristic which I'll describe here as "earthy" that seems to be present in most of the wines. This is not to suggest that the wines taste like dirt, but rather they exhibit a flavor nuance not unlike the taste of fresh mushrooms.
This is very subtle, but it's fairly distinctive. Some Burgundies have a hint of this flavor component, but they have a lighter mouth feel (generally speaking) and more acid than the wines from Oregon or California. Anyway, it's kind of fun to note these dissimilarities. Take California pinot noir for example. More dramatic differences are evident when one compares Oregon to California.
Whether from Carneros,
the Santa Rita Hills or the Russian River Valley, these California wines are generally  rounder and seem to have more deep, dark fruit flavors and less acidity than their Oregon counterparts. Yet both states' pinot noir can be excellent accompaniments to a wide variety of dishes.
Ah, food…
While my affection for pinot noir was the primary catalyst for the return trip to IPNC, I must admit that memories of the "incredible edibles" prepared by a host of talented chefs from all over the Pacific Northwest was an equal attraction.
In fact, in a few short days we participated in and consumed wine and food at two multi-course dinners, two luncheons (all outdoors in perfect weather conditions) and a Champagne brunch featuring food almost too visually appealing to eat – almost!
In addition, we attended and sipped wine at four seminars (including one at a winery) and two evening receptions, featuring more than 100 wineries from Oregon, Burgundy, New Zealand and California.
Now, before you get the impression that this was an out-of-control bacchanalian orgy, let me emphasize that the more than 600 people attending this event were under control, and I saw no evidence of stumbling, bumbling or slurring.
I did, however, observe
many people spitting wine into Styrofoam cups or pouring their wine into dumping vessels. By the way, spitting is an acceptable practice in wine tasting, particularly when the taster must evaluate multiple wines.
And no, I didn't observe anyone drinking from the dump bucket like the actor in the movie "Sideways."
However, I do think we West Virginians have genetic advantage when it comes to accurately expectorating. It comes from generations of our kinfolk who were adept at hitting a spittoon from great distances in saloons. There, such oral feats were commonplace and necessary to avoid bodily harm if the expectorant missed its target.
Next time, I'll list some of my favorite wines at the event.