Review: W.Va. author draws readers into 'Augie's World' and Pittsburgh mob
The novel "Augie's World" explores the eventful first few months of the protagonist's return to Jeweltown, W.Va., after serving in the Vietnam War. On the plus side, Augie's extended Italian-American family is eager to welcome him home. When his plans for graduate school end abruptly, he goes to work for his two uncles in their bakery. There he befriends fellow worker JDP, soon to be his partner in drinking and casual drugging. Augie quickly settles into a life full of family get-togethers, elaborate home-cooked meals and attempts at finding purpose in his days.
The first shadow to creep over the title character's relatively idyllic life is post-traumatic stress disorder. His Uncle Sal, who served in the military during World War II, thankfully has a sense of how difficult it can be readjusting to civilian life. But for all of his uncle's attempts to steer Augie into an informal support group of veterans, the night terrors and urge to self-medicate prove unrelenting. Temptations to slip into oblivion abound.
Another dark cloud then descends and drives most of the plot. Members of the Pittsburgh-based Mafia, or the Black Hand as Augie's family calls them, put the squeeze on the family bakery. As Auggie's uncles debate the merits of paying protection money, a fight with Mafia messengers ensues. Auggie jumps in to save his Uncle Giorgio from a vicious physical attack and beats a criminal enforcer into unconsciousness. He is told to leave town, lay low and let his family figure out how to extricate themselves from this consequential mess. Augie must leave everything that grounds him behind.
To cover his out-of-town adventures and Uncle Sal's plotting, the story features chapters in both first and third person. Though understandable, the perspective shifts can be jarring. The actions and internal life of the title character feel most pressing and involving, so the interruptions for exposition and stories of behind-the-scenes negotiating tend to slow the pace. They also sometimes distract by needlessly repeating information.
On the road, Augie revives old friendships, meets with families of comrades killed in the war and forges new platonic and romantic relationships. These moments are interrupted, and sometimes soured, by creeping complications with the situation at home. Having Augie's explorations and growth come to a temporary halt to resolve the plot makes sense, but it tramples on what makes the story interesting. Digging deeper into his affair with budding winemaker Lou or his struggle with PTSD and his emerging addictions could have proved more absorbing and satisfying than the clever, cinematic solutions to holding the Black Hand at bay that become the novel's climax.
In general, "Augie's World" too often favors plot over character development. Author John H. Brown, a wine and food columnist for the Charleston Gazette-Mail and The State Journal, draws on his culinary expertise and life experience to shape an engaging, complex lead character. Too many secondary characters lack similar development, however. We get reports on their back stories rather than seeing them emerge through more meaningful interactions with Augie. Too often dialogue is used to explain plot points rather than further characterization. That said, the plot is wild and involved, but clear and focused. It might carry greater weight if more of its characters came more vividly to life.
Ultimately, the author succeeds at depicting his titular world. Readers experience the varied landscapes of West Virginia, the foods and traditions of Calabrian immigrants, and the struggles of a war veteran in the days before mental health treatment was more commonplace. Perhaps not every element of his story is believable, but Augie Cumpton is.
A profound tale of perseverance and family.
Vietnam veteran's return to the United States sees him facing anti-war protesters and menacing mobsters in this novel.
By 1970, Augustino "Augie" Cumpton has finished his tour of Vietnam. Though it's a decade before PTSD becomes an official medical condition, Augie is unquestionably afflicted. Some of it stems from guilt, as he watched friends die in battle, including a fellow soldier who sacrificed his own life for Augie's. Augie enrolls in graduate school in his home state of West Virginia not long after the Kent State shootings. Upon learning he's a vet, students and faculty berate him, one even calling him a "baby killer." After leaving the university, Augie initially fares better working the night shift at the Chestnut Bakery, the family-run business his grandfather started over 50 years ago. But when a member of the mob organization The Black Hand threatens and later beats Uncle Giorgio, Augie responds by knocking out the thug. Uncle Sal tells Augie to lay low and hopes to avoid The Black Hand's retaliation. The group subsequently demands that Augie's family turn him over, which Sal resists, looking for a way to save his nephew before dangerous mobsters track down the vet. Brown's character-driven sequel boasts a consistent pace, occasionally spotlighting Augie's family and friends. Periodic lighter moments lessen the generally grim tone, as when Augie sits in on a game of pinochle with his charming but foulmouthed aunts and a family friend. Nevertheless, the book's strongest scenes involve his Vietnam experience, particularly as Augie visits the relatives of his lost comrades. The final act turns darker and more violent. Not only are Augie's flashbacks and nightmares a never-ending struggle, but those hurt—or killed—by mobsters looking for him compound his already hefty guilt. While the ending satisfies, there's room for another installment or, perhaps, a spinoff.
A profound tale of perseverance and family. (acknowledgements, recipes, author bio)
WV Book Team: Brown's latest novel continues soldier's story
John H. Brown is a familiar figure to many West Virginians. He's the founder of Brown Communications, a Charleston public relations firm now headed by his son Bryan, and he's been a wine and food columnist for more than 30 years, writing for the Gazette-Mail and other publications.
In 2018, Brown embarked on a different kind of writing when he published a slim paperback novel, "Augie's War," inspired by his own war-time experiences in Vietnam.
Like Joseph Heller in "Catch-22," the classic novel about the deadly World War II air war, Brown penned a novel that made clear the insanity of war in all its grim and gritty horror. Young Augustino "Augie" Cumpton, born into a big Italian-American family in West Virginia, is lucky to escape with his life when the Viet Cong attack his base. Many of his buddies aren't as fortunate.
Now, Brown has published "Augie's World." A follow-up to his first novel, it details the ex-servicemen's experiences when he returns home in 1970.
Augie is, of course, thrilled to be reunited with his family and friends. He takes special delight in being able to again enjoy the tasty Italian dishes he grew up eating. (If you like to cook, you might want to turn to the back of Brown's book and check out the real recipes from the author's family, which he attributes to the novel's fictional family.)
But Augie's return home is far from idyllic. He may have returned from Vietnam physically unscathed, but like many returning Vietnam vets, he's been emotionally and psychologically traumatized by his battlefield experiences. Almost nightly he's visited by the worst sort of nightmares, which wake him up screaming. And like many other troubled vets, he turns to alcohol and drugs for the temporary comfort they provide.
Today, we would say Augie is suffering from post-traumatic stress disorder, but in the 1970s the problem was still called "shell shock" or "battle fatigue."
Augie's maternal grandfather, Salvatore Emilio Costanza, worked hard in the coal mines, saved every penny he could and used that savings to open a little business, the Chestnut Baking Company. Almost everyone in the family, including Augie, has worked at the bakery at one time or another.
Memories of the bakery and its daily parade of colorful customers provided Augie with happy memories he could retreat into as a way of hanging on to his sanity in war-torn Vietnam.
About a third of the way into "Augie's World," the novel takes a dark turn. Now that he's back home, Augie has resumed work at the bakery. Then something happens there that presents a new and perilous problem for he and his family.
Unbeknownst to Augie, the mafia has been demanding protection money from his two uncles who run the bakery. The two have refused to pay. Unwilling to take no for an answer, a mobster shows up at the bakery and begins roughing up one of the uncles.
Augie grabs a big wooden paddle used to take the hot bread out of the oven and delivers two hard licks to the mobster's head, knocking him unconscious. The mobster is in a coma for days and then dies. Bent on extracting revenge, the furious mobsters demand the family turn Augie over to them. And for good measure, they kidnap Augie's girlfriend. Holding her hostage, they threaten to "rearrange her pretty face" unless they get Augie.
How Augie's family goes about outwitting the bad guys, successfully rescuing both Augie and his girlfriend, would make a great Hollywood movie and provides an ingenious, if implausible, end to an entertaining novel.
"Augie's World" (Black Rose Writing, $18.95) is available wherever books are sold or from Amazon.com.
Augie's World by John H. Brown
John H. Brown's Augie's World (Black Rose Writing, 243 pp. $18.95, paper; $6.99, Kindle) is a tight little action and adventure story rooted in a sense of family and loyalty. Brown was drafted into the Army and served a 1969-70 Vietnam War tour of duty with the Americal Division. This book is a follow-up to his debut novel, Augie's War.
After being drafted, main character Augie Cumpton winds up in Vietnam where he loses three good buddies in combat, sees another one permanently desert, and learns about a senior NCO being murdered by one of his men. Augie returns home in 1970 and is soon discharged. He develops PTSD, though it won't be officially diagnosed for ten years. In the meantime, he self-medicates with alcohol and drugs.
Augie was raised in an extended Italian-American family, which he returns to, with dreams of studying English literature and becoming a teacher. Food is important to this family as are the rituals around preparing it and family dining. Memories of such family gatherings sustain Augie during some of his most difficult times. Brown includes eight pages of family recipes at the back of the book for such things as stuffed artichokes and pasta marinara.
While working in the family business Augie gets involved in a deadly encounter with Mafia members over what they called "insurance" for the small business. Augie is forced to leave town, taking with him his old Army .45 caliber pistol. With the Mob hot on his heels he attempts to go into hiding. But when members of his family are threatened, he realizes he should come home and deal with the problem. He's not John Rambo, though, and needs the help of family members to end the threat.
There is a really cool, nearly mystical, character who helps Augie, but it needs to be said that Brown includes quite a bit of almost casual violence and threats of such throughout the book. There are more than forty chapters that alternate between first and third person. Brown does a great job in moving the story along through chapters titled "Welcome Home," "To the Moon," "Bad News," "Circle the Wagons," and "Escalation."
I encountered two hiccups in the book. One involves a returning soldier being spat on at an airport, which we know is a myth. Since this is fiction, an author is free to use artistic license—but it's not right to perpetuate that myth.
Brown also writes that "four student protestors" were killed by Ohio State National Guard troops in May 1970 at Kent State University. It's important to note that two of the four murdered students were not protesting anything; they were walking between classes at a distance of more than 380 feet from the shooters when they were gunned down.
I was interested in seeing how this story turned out. Brown kept me reading. I found the ending to be far-fetched, but that didn't ruin the book, which overall I enjoyed.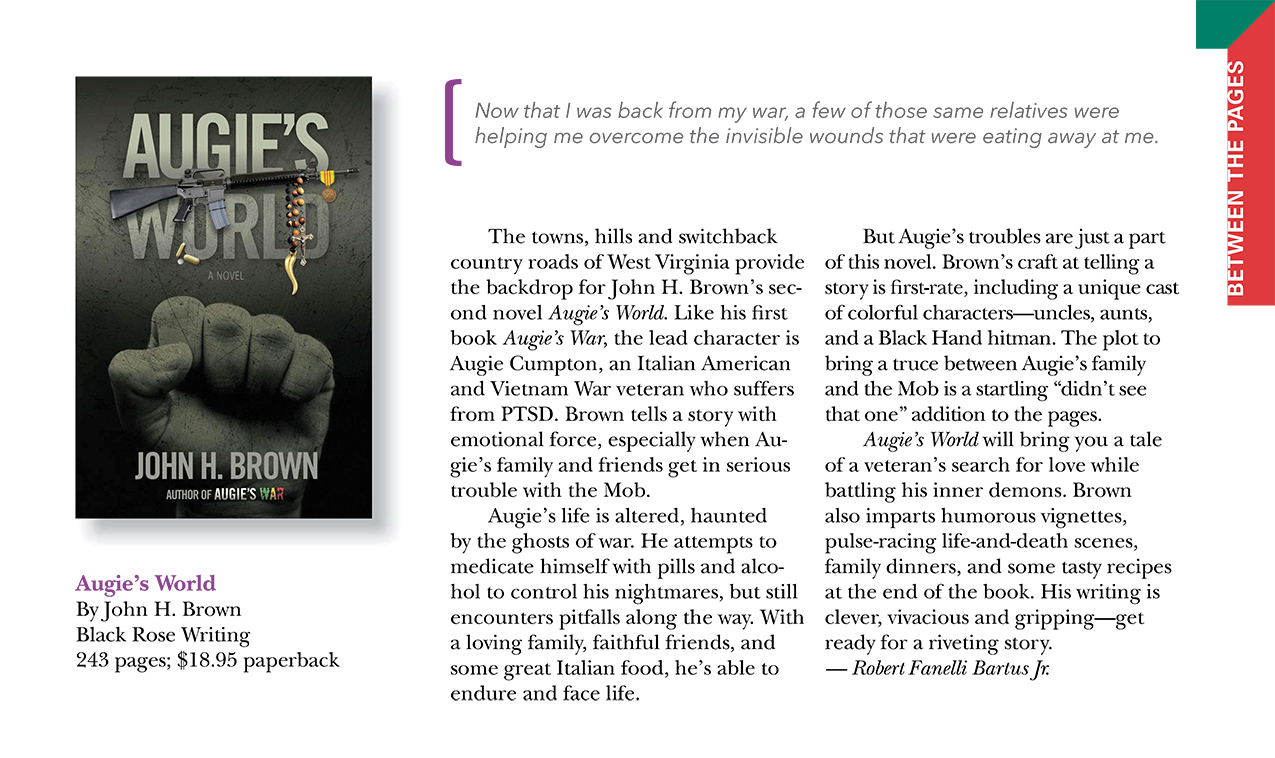 Augie Cumpston-A story of love, survival, friendship and food
I enjoyed Brown's first book, but his second one, Augie's World really hit the mark with me. What is most interesting are his descriptions of growing up in an Itallian-American enclave in West Virginia. Very funny, very ....heartwarming, I would say. Many colorful characters share the stage with Augie...s omething the author pulled off very well. The story is drawn from his own life experiences. Humor, mystery, and a gripping plot really had me transfixed. Oh, and the Italian recipes at the end of the book are cool. My wife already made two of them and results were really great.
Life and mafia problems in an Italian family after Vietnam
Augie's World is a real life depiction of growing up in a close Italian family during a time when everyone had a nickname and the Mafia was active. The food and the family interactions with the characters are all real life and well intertwined in the story plot. The characters are one of my favorite parts of the book. You also will be entertained. Augie's PTSD is a result of his Vietnam experience as depicted in Augie's War.

His loyalty to his family and their protection and love for him ties the story together. There is love, romance and all you want in a good fiction novel...a page turner and must read. Plus the Italian recipes are authentic. Loved this book and waiting for #3.
Augie's World Is A Compelling Drama
Wow, John Brown's second novel, "Augie's World", a sequel to "Augie's War" reads like a Michael Connelly novel! His yarn keeps the reader glued as Augie winds his way through West Virginia's Canaan Valley and into underworld denizens in nearby Pittsburgh. His journey endangers those he loves and introduces us to a Damon Runyon cast of characters who take umbrage that Augie's life is demanded as payment to protect his family. Not just drama that keeps one engaged—plenty of humor, a good deal of amour, and a hefty serving of Italian love of food and wine. Enjoyed it immensely!
A Very Good Read
I enjoyed Brown's first book, but his second one, Augie's World really hit the mark with me. What is most interesting are his descriptions of growing up in an Itallian-American enclave in West Virginia. Very funny, very ....heartwarming, I would say. Many colorful characters share the stage with Augie...s omething the author pulled off very well. The story is drawn from his own life experiences. Humor, mystery, and a gripping plot really had me transfixed. Oh, and the Italian recipes at the end of the book are cool. My wife already made two of them and results were really great.